"Jack [Nalty] always gave of his best"
This year marks the 85th anniversary of the death of Jack Nalty , an East Wall man who died at the Battle of the Ebro on 23rd September 1938. A Republican , socialist and trade unionist , Jack had fought in the War of Independence and Civil War , and as an ITGWU organiser represented 600 workers in Dublin Port oil companies . In 1936 he volunteered to join the International Brigades to support the Spanish people against Fascism , and on the day when the Brigades were withdrawn from combat he was shot dead,having returned into danger to assist two British volunteers.
During the years 1925 to 1933, he also pursued another interest, a long distance runner with the Dublin City Harriers, winning championships on numerous occasions and even representing Ireland in 1931. The records of the club reflect his achievements:
In the seasons 1925-26 and 1926-27, he won the Seven Miles Cross-country Club Championships.
In 1927-28 he dead heated for the title and won it again in 1932-33.
He is listed in individual performances in Cross-country Championships:
In 1927-28 – Second in the County Dublin Senior.
In 1928-29 –Third in the County Dublin Senior ("Nalty ran with great determination and finished a good third").
In 1930-31 – Third in both the National Senior and the Connacht Province Senior.
In 1931 he received International honours when he represented Ireland in the cross country team at Baldoyle, County Dublin.
Following his death, the annual record of the Dublin Harriers recorded:
"Our season closed on a sad note when the Club members learned of the death of Jack Nalty in Spain, Sept. 23rd 1938. Jack always gave of his best; his name adorns many of our club trophies. R.I.P."
Join us on Saturday 23rd September @ 1.30pm to commemorate Jack Nalty and his fellow Dubliner Liam McGregor (Inchicore) who died on the same day.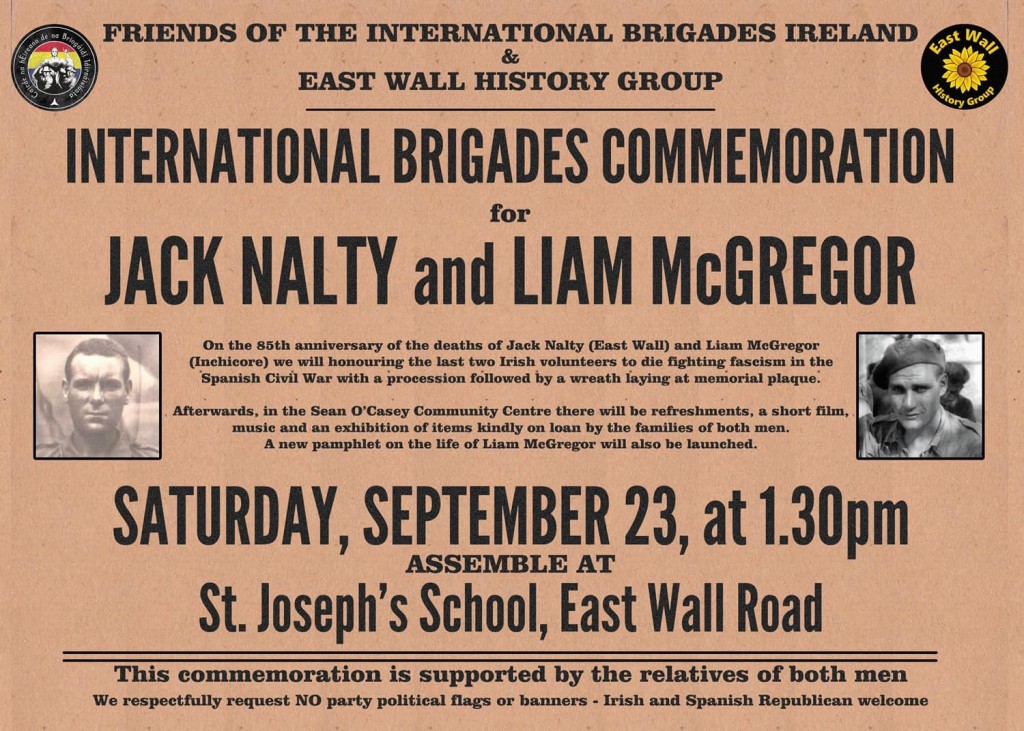 Assemble: St Josephs co-ed school , East Wall Road.
(Image: Dublin City Harriers , including Jack Nalty. Image courtesy : Nugent family / East Wall History Group)