The Sean O'Casey Festival 2023 is delighted to present the Irish premiere of this acclaimed play by John and Willy Maley. Set in the 1930's during the Spanish Civil War, it is based on the true story of their father James and other family members.
The story switches between a fascist prison in Spain and the tenements of Glasgow, as volunteer James and his comrades are facing possible execution, while their mothers, wives and sisters face a different struggle at home.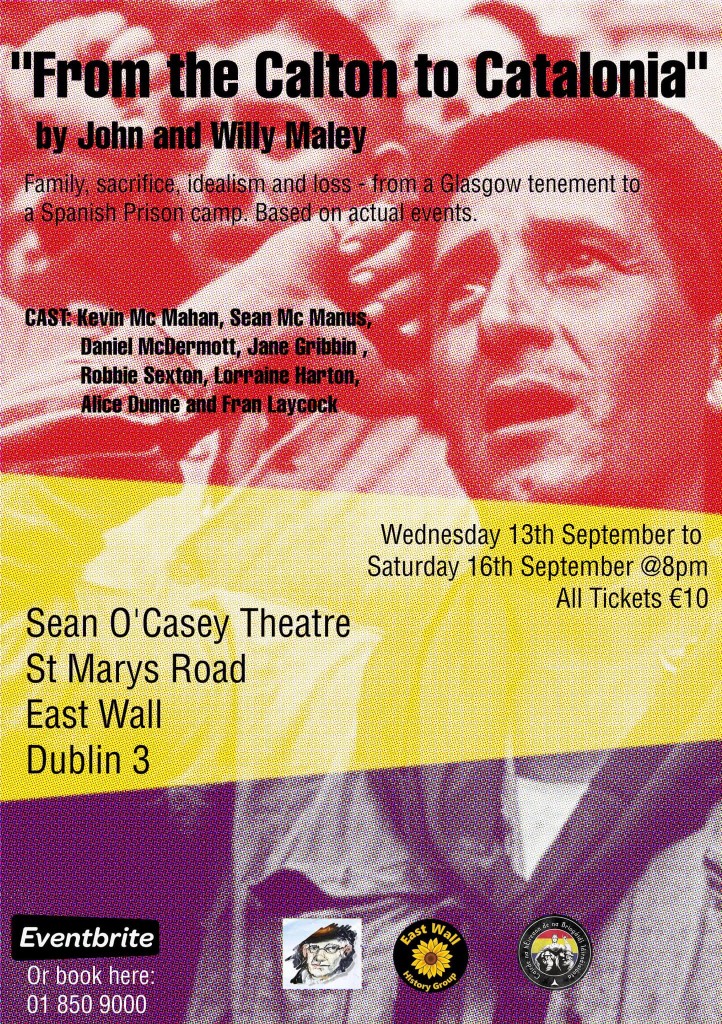 SO'C:

Can we just start off by asking you about your fathers' experience in Spain, as this is central to the story of the play?
 "Our father James Maley (1908-2007) was born in Glasgow, in the East End, populated by Irish immigrants. His father, Ned, came from Mayo as a young man. James joined the Communist Party on 16 February 1932, learned to use a rifle in the Territorial Army from 1934, and went to Spain in 1936 as part of the International Brigades to defend the Spanish Republic against General Franco's fascist coup. As part of Machine Gun Company No. 2 of the British Battalion he was captured at the Battle of Jarama in February 1937 and held prisoner for several months before being released as part of a prisoner exchange. While he was incarcerated, a propaganda newsreel was shown in a Glasgow cinema and seen by his mother, who persuaded the projectionist to cut two frames from the reel. We grew up with these two images in the house – our father on the back of a lorry with his comrades, then lined up in a prison yard. When my father came back to Glasgow he had copies made for his comrades."  
SO'C:

Your father of course was only one of many Scottish volunteers, but is it fair to say that Glasgow seems to hold their memory in a particular high regard?
"Glasgow provided a large proportion of the British volunteers for Spain and hosted the city's only significant socialist monument in the shape of a founding member of the Basque Communist Party, Isidora Dolores Ibárruri Gómez, better known as La Pasionaria, arms upraised, overlooking the Clyde. It was commissioned in 1974 by the International Brigade Association, which the help of the Labour movement in Scotland, and was finally unveiled on 5th December 1979 after the usual right-wing red-baiting. The sculptor, Arthur Dooley, was a communist and a Liverpudlian, best known for his sculpture of the Beatles depicting the Madonna cradling the band with the inscription: "Four lads who shook the world." Dooley had a few church commissions in his portfolio, including one at Toxteth, and there's a religious feel to La Pasionaria's upraised and imploring arms. She is a kind of Madonna figure, and the men and women she salutes shook the world."
SO'C: What was it that made you decide- this story needs to be told on the stage ?
"In 1990 Glasgow was European City of Culture. The publicity generated by Tory PR machine Saatchi and Saatchi was all empty corporate slogans. The real history of Glasgow as the hub of Red Clydeside, as a workers' city, a European city, and a crucible of internationalism was glossed over. We didn't have far to look for a subject that captured all the elements of the city that we felt were being excluded. We decided to home in on the extraordinary role played by men like our father and his comrades in the fight against fascism in Spain. The Cold War, and the collapse of the Soviet Union meant that the anti-fascist activism of the 1930s, and in particular the part played by the International Brigades in the Spanish Civil War (1936-39), a dress rehearsal for the Second World War, was a forgotten episode." 
SO'C:

And once you had the idea it very quickly made it to the stage. Did you think that three decades later it would reaching new audiences?
"The production history of the play is quite patchy, as you'd expect for a play that began as a community project, modestly funded by Glasgow City Council, yet the play has persisted through word of mouth. The play opened at The Pearce Institute in Govan on 3rd December 1990 and has been revived several times over the years, most recently in 2016 as part of Celtic Connections Music Festival in Glasgow. To mark the 30th anniversary of the original production in 2020 there had been discussions about Irish and Scottish productions, but of course COVID changed all these plans." 
SO'C: One of the aspects of the play which really appeals to us is the similarity with the classic works of Sean O'Casey. The contrasting struggles of the men in the prison and that of their women family members in Glasgow is central to the dynamic, and of course, it's also a very funny play, despite the subject matter. Was this a deliberate approach?
"Our influences in terms of theatre were O'Casey's tragicomedies, Brecht's epic theatre, and John McGrath's agitprop. These playwrights addressed political history in ways that we found satisfying, blending comedy and seriousness, using songs and speeches, mixing intimate moments with the impact of politics on families and friends. We were aiming for something we jokingly referred to as 'commie-tragedy' – the treatment of a socialist past that was already part of history, and a closed book for many. We were writing at a time of deep reaction under a British Tory Government that had been in power for over a decade. It was not an easy time to be talking about communist activism, but it was as ever a vital time to be addressing the rise of the Right and the very real and continuing threat of fascism. In that sense the play has never gone out of fashion." 
SO'C: Another obvious similarity with O'Casey is the authentic use of language. His Dublin characters on stage spoke like working class Dubliners and your characters speak like working class Glaswegians. Did you see that as an issue for others who might want to stage it?
 "We wrote the play in the Glasgow accent we heard around us, for a Glasgow cast and a Glasgow production. We expect an Irish cast to make it their own. We've never been precious about language and appreciate that the play can be updated, adapted, and the characters made to speak in different voices from the ones we had in our heads when we wrote it. This was just our version of Glaswegian, and was never set in stone. We've always seen actors as the proletariat of the theatre, and since they're the ones out there on stage speaking the lines you have to give them some license to roam and find their own voice in the script. The lines are there to trip off the tongue, not to trip the actor up, so actors can make it work for them – make their own music as it were. There's a story, perhaps apocryphal, about a Scottish playwright sitting at the back of a theatre during rehearsals asking an actor if there was an apostrophe in the script and if not why did they put one there. That's not us. Theatre is collaborative and the script is a green paper, not a blueprint." 
SO'C: And I think it's important for us to add that since we first discussed this upcoming festival production with yourselves you have been nothing but supportive and generous in your approach, and the actors have jumped in with both feet to their roles.
 SO'C:

Now this is a very important question and one that cannot be avoided. Your family have Irish roots, you were born and bred in Glasgow, so tell us, there has to be a Celtic story in there somewhere?
"James Maley was a lifelong Celtic fan, and when he boarded the packed double decker bus in George Square in Glasgow in December 1936 to go to Spain he saw several neighbours and others he recognised as Celtic supporters. Celtic FC was home to radicals and republicans, as well as more conservative Catholics. At a time when the Catholic Church in Ireland and Scotland was backing Franco, Catholics and Celtic fans like Maley, the son of an Irish immigrant, took a stand for the traditions they felt represented what was best in the club's history – defence of the underdog. In prison in Spain my father often wondered how his team were doing. Better, he hoped, than his side in the conflict in Spain."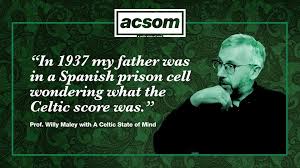 SO'C: And finally, one last question. Your father lived to the ripe old age of 99. He personally is remembered in print, in song and on stage, and those who fought alongside him too are commemorated. What is their legacy?
"For decades, the International Brigade Association (IBA) held meetings to commemorate the role of volunteers in Spain. As the last of the veterans passed away a new expanded organisation emerged. The International Brigade Memorial Trust (IBMT) exists to preserve the memory and promote the politics of commitment integral to those who went to Spain. And of course, in Ireland there are groups like Friends of the International Brigades (FIBI). In Spain itself, the Law of Democratic Memory offers the prospect of Spanish Citizenship for descendants of members of the International Brigades. The lasting legacy of the volunteers for Spain is the example they set of anti-fascist resistance, their ordinary heroism, and their willingness to lay down their lives for a just cause, the cause of the Left."   
"From the Calton to Catalonia"  by John and Willy Maley will be part of the Sean O'Casey Festival 2023.
 From Wednesday 13th September to Saturday 16th September  
@ 8pm   Sean O'Casey Theatre, St Marys Road East Wall.