Church Road fire 1970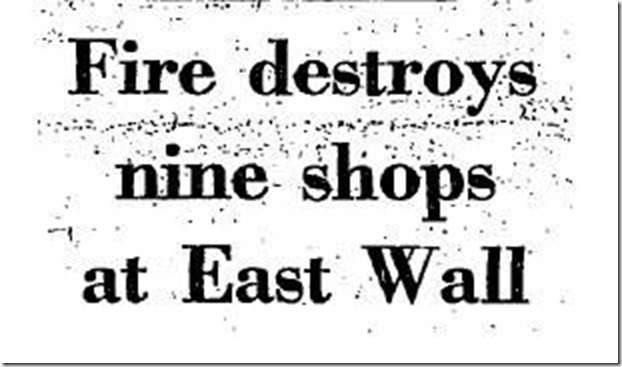 On this date, 27th June, in 1970 a major fire broke out on Church Road in the early hours. A total of nine premises were destroyed in the blaze, as listed in the newspaper below.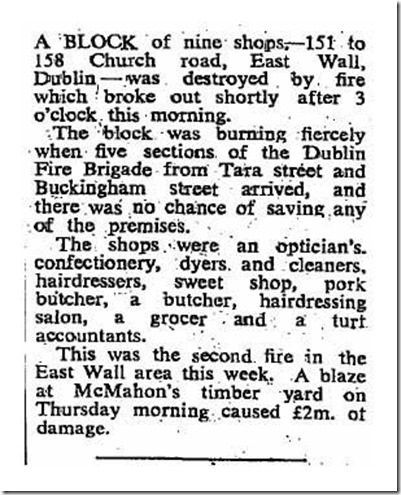 The photographs below show the block of shops as residents may remember them, and as they looked in the aftermath of the fire, with boarded up windows. The colour photo shows the location as it is today, over four decades later – St. Marys Court, senior citizen accommodation.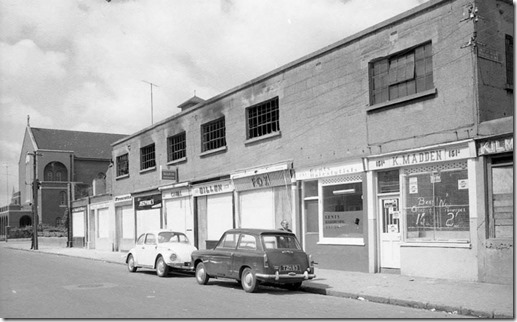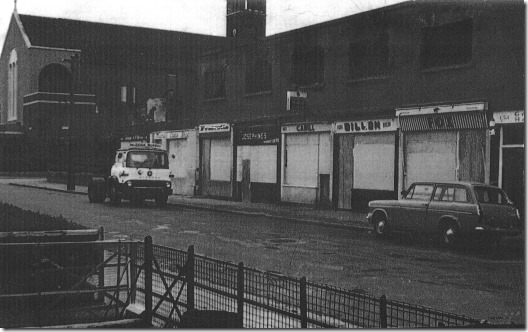 The Church Road fire occurred just two days after another major local blaze, at a timber yard belonging to James McMahon LTD, which had been destroyed, along with vehicles and an estimated million pounds worth of timber. This was a large three acre site, and neighbouring streets were affected. This included Merchants Road, where according to one report "blistered paint and cracked window panes were apparent on all the terraced houses on the road" and due to smoke damage one women complained that "Wallpaper, clothes, furnishings, things like that are a write off."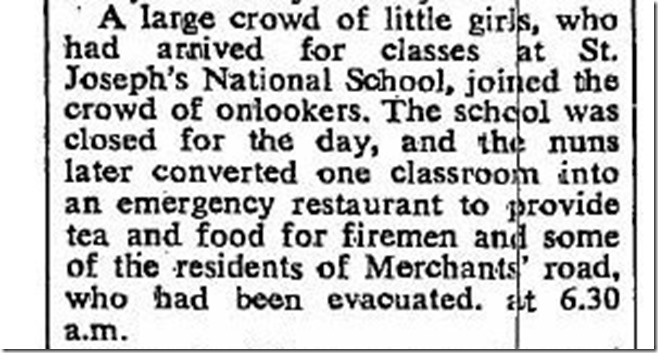 Around this time a number of similar fires occurred around the city, with some speculation that the Ulster Volunteer Force was responsible. Following threats from loyalist paramilitary's security measures had been increased for members of the government and on state buildings. Any link to the city fires was discounted by the Gardaí, who claimed that "while arson could not be ruled out in at least some of the recent fires, there was little evidence that to suggest that they were politically motivated". `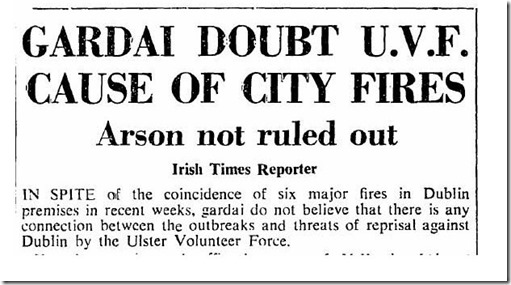 As part of his "Songs from the North Lotts" collection Paul O'Brien recorded this favourite, which looks at events of that day from a unique viewpoint. (See link to video below)
THE CHURCH ROAD 1970 (Paul and Gerard O'Brien)
A song I wrote with my brother Gerry during a weekend visit to play some of my songs in East Wall. I met "Paddy the butcher" and he told me that he had been sick for two days and had missed his chance to rummage around in the Lego warehouse on the Church Road that burnt down in 1970. Paddy has no Lego, but he does have a picture of the scene and now he has a song, it may be poor consolation, but it's the best I can do. Thanks Paddy, we had a great laugh writing this!
A little boy was lying sick in his bed
When all around him were loosing their head
Down by the bookies around at the back
They were scrambling and fighting on a mountain of black
He called for his mammy, "please to me tell
What's the commotion, what is that smell?"
She said "not to worry, it's nothing at all,
It's par for the course down here in East Wall"
"I'm goin' over the road; I'll just get a sack
And I'll bring you a present when I get back"
True to her word and to his surprise
She laid out the goodies before his sick eyes
OH! MAMMY WHY IS THIS LEGO SO BLACK?
WHERE DID YE GET IT, CAN YE NOT BRING IT BACK?
THE TRAIN IS A BEAUTY, A WONDER TO SEE
BUT THE TRACK THEY ALL WOBBLE AND THERE'S NO BATTERIES!
He opened the sack and looked down in dismay
You could tell by the wrapping it's not Hector Gray
He looked at the thousands and thousands of bits
And searched in vain for two that would stick
OH! MAMMY WHY…..
Then someone finally sent for the police
And then scurried off with the very last piece
The firemen were cursing and looking forlorn
In a warehouse of boxes and the Lego all gone
OH! MAMMY WHY…..
Next day for school poor Paddy was late
His hair and his cloths in a terrible state
The teacher said "Paddy, show me your hands
I can see by the smuts that you're from Lego-land!"
OH! MAMMY WHY…..
https://www.facebook.com/eastwallhistory/videos/vb.580261572043057/678585938877286/?type=2&theater
If you have any memories of the fires of 1970, or other notable local events please contact us at
eastwallhistory@gmail.com