Lord Mayor recognises Pride Of Place success:
"An opportunity for Dublin to congratulate and thank East Wall".
East Wall was honoured last year as the winner of the national Pride Of Place competition. It was an important recognition of the great community we share, and a tribute to the hard work and commitment of those who work tirelessly to make it so great. Each local authority in the 32 counties chooses a community for the competition, and we were selected to represent Dublin City Council. Our success was one shared by this community and Dublin City – an achievement recognised and celebrated by the Lord Mayor, Naoise O'Muirí , who recently hosted a celebration in the Mansion House. He described this as "an opportunity for Dublin to congratulate and thank East Wall".
A representation of residents , on behalf of the many local groups and organisations which contributed to our community success, attended the event, along with a number of our public representatives, both T.D's and Councillors , and Dublin City Council staff.
The highlight of the evening was the heartfelt congratulations expressed by the Lord Mayor, and also the beautiful scroll presented to our community.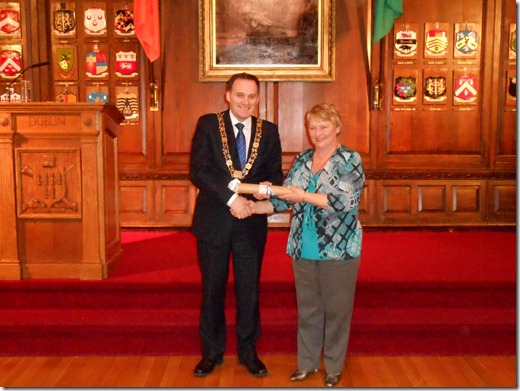 Lord Mayors Presentation, received by Marie O'Reilly
East Wall For All would like to thank Lord Mayor Naoise O'Muirí for acknowledging our community and also for the hospitality extended on the evening.
East Wall celebrates – photos and comments from Mansion House celebration
" People always ask us – where do you come from…"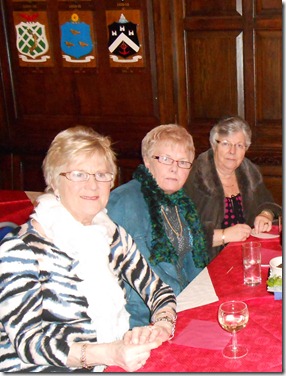 East Wall Ladies at home in the lavish surroundings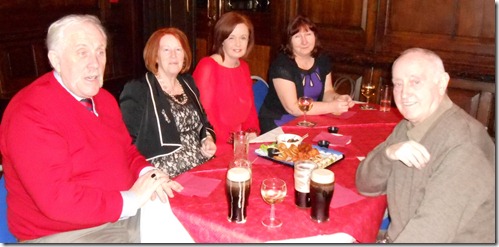 "Very enjoyable evening. Good to see everybody who was involved, and proud to be part of East Wall."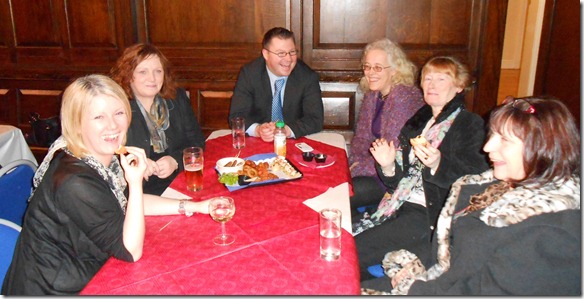 "The evening, hosted by Lord Mayor Naoise O'Muirí, was a great success and was very enjoyable too! There was a real sense of achievement in the room and it was easy to see why East Wall were the winners of such an award. We are a fantastic community and it's about time we celebrated the wonderful work that goes on here in East Wall. I was very proud of us."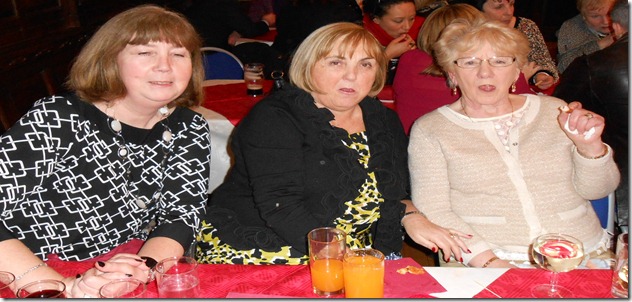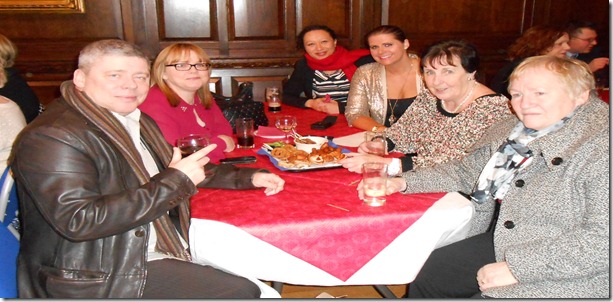 'Lady Killer' Paul and his entourage
:
And the last word goes to Margaret Croke, unsure about protocol, but always calm under pressure:
"Me and Debbie decided to go up the steps and ring on the door bell. Sure isn't that what you would do if you knocked on anyone's door. Why would the Lord mayor's residence be any different?  Off we went and rang the door bell and just as I was about to look into the letter box to see what was happening the great big blue door opened to reveal a bemused porter and in my best posh voice I said, 'hellowe are here from East Wall to see the Lord mayor' and he said, 'well of course you are, we are expecting you. Come on in, you're very welcome.'
  He was very relaxed and down to earth as was the Lord mayor himself".
: