Dairy keepers, downhill racers, Fire-men and Guards

It's Saturday at the East Wall History Festival

A busy day for all this Saturday, 17th November, with the History Festival featuring three events in one action packed afternoon.

At 12 pm meet at the Bottom of Johnny Cullens Hill where a bronze name –plate will be unveiled to acknowledge this local landmark. Join us afterwards in the Sean O'Casey Community centre for refreshments, before the afternoon talks begin.
Starting at 1pm we will mark two significant anniversaries – Dublin Fire Brigades 150th year and An Garda Siochanas 90th. All welcome to come along to the Sean O'Casey Community Centre and hear two historians of the services (and both serving members) tell the story, from their foundation through the many changes down the years.
And to whet your appetite, here's some related material that you may enjoy.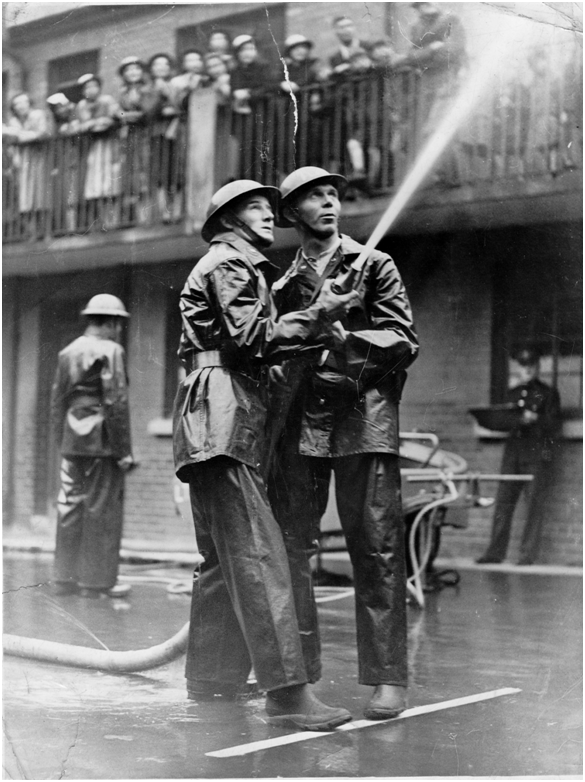 Fireman James Whittaker in action
This great photo was donated by David Whittaker, and shows his father James (on the left). James Whittaker worked in the Fire Brigade during the "Emergency", and David has said "I recall him telling me of the bombing of North Strand…he cycled up from St Marys Road to help with the rescue efforts, he was off duty at the time…" The picture is appears to be a training exercise (The name of the other fireman is not known).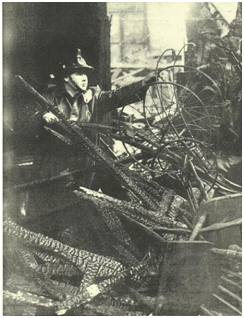 The pram featured in original production of Sean O'Casey's "The Plough and the Stars" being rescued following Abbey Theatre fire in 1951
COME HERE TO ME! is a wonderful blog , covering all aspects of Dublin life & culture . Here is a link to a number of stories they have featured on the Dublin Fire Brigade, including the bizarre but true "rats with matches" incident. Enjoy.
comeheretome.com/2012/04/02/a-collection-of-come-here-to-me-posts-on-the-dublin-fire-brigade-who-turn-150-this-year/