Johnny Cullen's Hill… the story so far

Johnny Cullen's Hill is the name traditionally used by locals for the Rail over -bridge on East Road and this title has now come into more common use. Johnny Cullen and other family members operated a number of businesses on East Road from 1880 until the 1940′s. While the name is now most commonly associated with the dairy, the Cullen family also operated a general providers and transport companies from here.

The Bridge was built in the 1880′s for an extension of the rail lines by the Great Southern & Western Railway. The line between Church Road and the Point Depot opened in 1886, though discussions on the extension, and the commissioning of architects had taken place in 1878.

The earliest record located to date of Johnny Cullen operating any business on East Road is in 1880, when records listing a carter can be found. Later on the Dairy and General providers are also listed.

The family and their properties
The 1901 and 1911 census provides information on some of the family members.

In 1901 john Cullen, then aged 66 is listed as a general carrier, and is living in number 3 East Road with his wife KatherineCullen (aged 28).

In number 2 East Road we find Elizabeth Cullen, aged 60, widow and dairy keeper.

By 1911, ten years later, Elizabeth Cullen, (who is now claiming to be aged 66), is still listed as dairy proprietor.

John Cullen had passed away between the two census dates (more on this below), and in number 3 East Road we now have Patrick Kavanagh, listed as a carrier. Mr Kavanagh was in fact the manager of the late John Cullen's transport business.

In addition to the houses they actually lived in, there was substantial other property owned by the Cullen's at these locations. In 1901 this totalled 20 buildings, which by 1911 had expanded to 29. For example, associated with Elizabeth Cullen in number 2 were five stables, a harness room, accommodation for cows, pigs and fowl, and two sheds and a store.

Between 1901 and his death, John Cullen developed further properties at Number 9 East Road, which were sold in 1902. This was quite an extensive property, as the auction details below clearly show. It is interesting to note that the sheds are described as capable of accommodating up to 400 cattle , while the general area is described as " rapidly improving" and "further house building is predicted".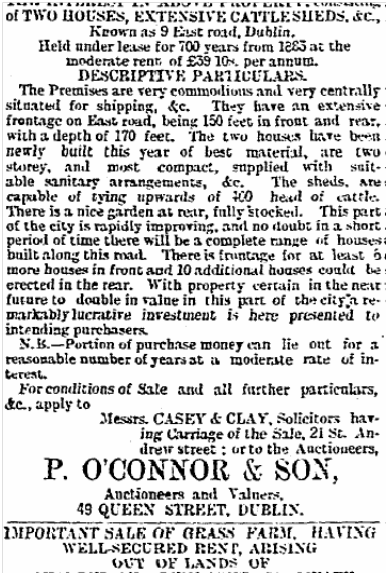 Death of Johnny Cullen

Johnny Cullen passed away in September of 1904, and was buried in Glasnevin cemetery. His death was not without some controversy, and a touch of soap opera, when his estate came into question. It appeared that when his father John Cullen senior had married his mother Mary Egan she was already a widow, and Johnny Cullen had a half-brother, Kirwan Egan (now deceased). As such, Kirwan's five children were now claiming they were Cullen's next of kin and entitled to a share in his assets. Marriage certificates were produced, there was circumstantial evidence entered that "Kirwan Egan had a very elaborate funeral, and that it was generally supposed it was his rich brother, who lived in Dublin, who paid for it", though Cullen's 80 year old sister denied Kirwan was a brother .In judgement, It was accepted that the five were in fact Cullen's nieces, and were entitled to an equal share in his assets.

A telephone conversation leads to strike

In 1911 the school boys of the WharfSchool went on strike. In attributing blame for the strike, the parish priest commented "Strikes were in the air at the time, and the residential quarters of the general strikers were all around the school". This was a fair assessment, as in a short space of time the railway-men, the timber yards and carters were all involved in disputes in the Port area. The Cullen's were not to be immune to this wave of workers militancy, when 30 carters were to strike at the end of October. The newspaper report below gives a flavour of what occurred. It was later reported that all the striking men were back at work the following day, after Keegan left at lunchtime on the day of the strike and did not return.

And if anyone is interested, the phone number for John Cullen & Co, Carriers, at this time was 2301.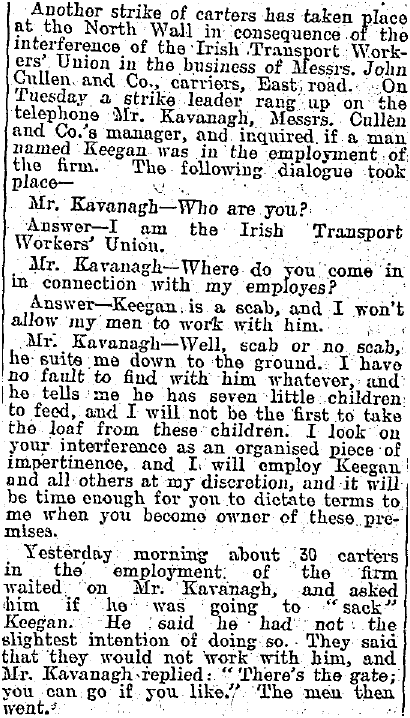 Adulterated milk and dirty udders

The dairy business was a quite significant trade in Dublin in the early 20th century. In 1921 it was estimated that 10,200 gallons of milk was produced daily in the city. The Dublin Cowkeeper's and Dairymen's Association was a hugely influential body, representing over five hundred members.

In the 1920′s hygiene and standards were a major concern, and the spread of T.B. and other diseases meant that the industry became much more strictly regulated. Dublin Corporation minutes from the period contain regular reports on Dairy Inspections, with the owners being fined for breaches.

In December of 1922, Elizabeth Cullen (now aged either 77 or 82) was convicted of selling milk which was adulterated with water, and fined £10. In 1924 Annie Cullen (daughter of Elizabeth), "was fined £5 for allowing the udders of several cows to be dirty"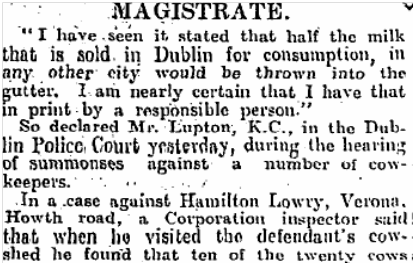 Closing it's doors

In 1928 there was another sale of property by the Cullen's, again quite substantial, and as the auction details clearly show this is a major disposal of their business interests , property and equipment . At some stage in the 1940′s, after an obvious decline, it seems that the Cullen business empire on East Road ceased to be, with the dairy finally closing.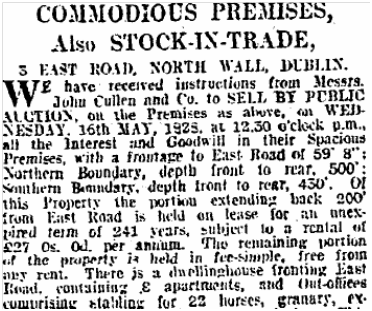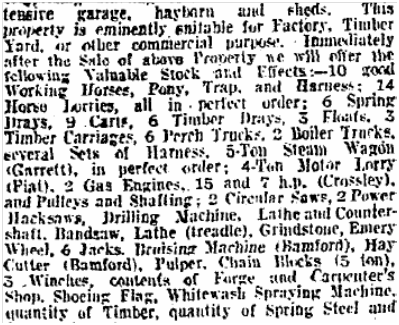 Some personal memories

Tommy Devlin, a lifelong resident of East Wall, worked there for a short time as a youngster. In an interview with the East Wall History Group he recalled:


"Nine or ten or something was all I was. I used to clean the harness, the harness for the horse. And then I used to make the buttermilk, churning it around. And I went out once, with Granddad Cullen we used to call him. They had the cattle out … in the summer, they used to be out there. They used to go out and milk them, at two or three in the morning and come back then at five."

Tommy recalled the premises, the front of which was located where Church Court stands today,"on the left hand side of Debbie's" ( D-Cafe) :

"I worked for Joe Geraghty, He'd about 10 cattle in there, a couple of horses and a hay shed. There was a big gate there. When you went up the top there was a shed for cattle … (up to) the back of the school …and then when you turned left you went into the Cullen's house. That was the Cullen's, I think they were two sisters. They didn't mix much, you know what I mean."

He detailed the milk round, as it was at that time:


"Just around East Wall I think. They used to go down to the Merchants. Alexander Road …the canteen down there, for the Dockers, they used to go down there with milk. At that time … the person would come out with a jug, you'd fill it up and you'd give a sup for the cat. That's what was said, a sup for the cat."

Tommy also remembered that "Titch Tyrell worked for him. He went out selling the milk". His own time working here was "Maybe two or three years, I don't know. Then I went into T and C Martin's at fourteen."

Tommy also recalled that: "Joe Geraghty had a shop on Mary's Road" and also Cattle keeping off Church Road, at: "Barbers Lane, there was cattle down Barbers lane, I think he was into the milk as well."

A former East Wall resident, John Caulfield also shared his memories, having lived beside the premises for many years:

"I came to live at the bottom of Johnny Cullen's Hill in 1939 as a child of four years. My early memories are somewhat vague, however I do recall Cullen's yard as having a number of outhouses which could have been cattle sheds previously. There were as far as I can recall two fairly elderly ladies, possibly sisters who lived in the house adjoining the yard. I think the ladies were of the Cullen family".

He believes that the premises were largely inactive at this time:


" I think that the yard and dairy business had formally closed some time prior to my coming to live virtually next door although I have a vague memory of getting milk at the hall door of the Cullen residence . Oddly enough, when we moved in 1955 to Artane there was a milkman there by the name of Cullen. I don't know if there was any connection with the East Wall Cullen's".

Like Tommy, John also recalled Joe Geraghty:


"As far as I know there was a Geraghty family connected to the Cullen family. Two names come to mind, a Miss Jenny Geraghty, who lived in Howth whom my parents used to visit. There was also a Joe Geraghty who traded for a while in a shop beside Ms Coulter's house at the Johnny Cullen's Hill end of St. Marys Road. I think that Joe later opened a shop, a greengrocery I think, in Marlboro Street".

And also like Tommy he remembered Cattle grazing elsewhere in the area:


"I think that before the Corporation houses were built in East Wall that there were grazing lands for cattle in the area. For example, where the current St. Joseph's Church now stands, I remember that site well as a field or park".

The two sisters mentioned were most likely Elizabeth Cullen's daughters Ann and Mary, who would have been in their late60′s at this time. It is possible that "Granddad Cullen" was her son, (also John) who would have been in his 70′s.The Geraghtys, (Joseph, Jane and Elizabeth) were in fact Elizabeth Cullen's grandchildren. Seamus "Tich" Tyrell went on to become one of Ireland's most famous jockeys of his era, and later a race-horse trainer living in India. In 1978 his mother explained how his career began: "At the age of eleven, Tich worked for Johnny Cullen, delivering milk out to Brackenstown. Tich told Johnny that he would love to be a jockey, so Mr. Cullen introduced him to Paddy Usher, a horse trainer out in Brackenstown. After only a year of apprenticeship he was riding in public, and in the early forties Tich was Ireland's top jockey".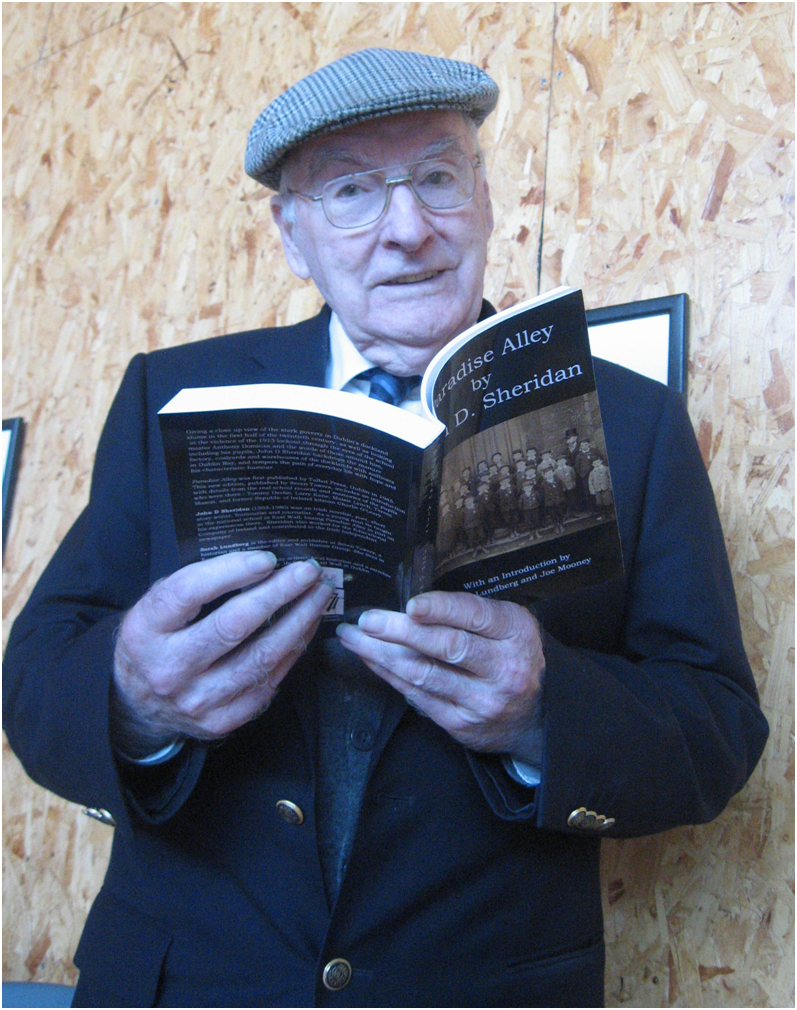 Tommy Devlin, worked in dairy as a boy

The haunting of the hill

Stories of the haunting of Johnny Cullen's Hill are part of local folklore. These stories date back to at least the 1940′s (and possibly earlier), with some senior residents recalling tales of the ghost of Johnny Cullen walking over the hill, while others talk about a headless horseman. This element of folk memory persists, and it was amusing to see a young eastern European pupil from St. Josephs Co-ed dressed as a headless "Johnny Cullen" for Halloween this year.

All downhill from here

For thirty something's, forty something's and fifty something's the name Johnny Cullen's Hill invokes memories of the Box car Derby which was a feature of the community festival in the late 1970′s. Those were the good old days , when the summers were always sunny , short pants were all the fashion and massive personal injury Insurance claims were unheard off, and racing down a steep hill in self-made box cars was not just something you'd see on "Jackass" . This annual event is remembered fondly by Chris Shelly:

"Every year we had the East Wall Festival. My Ma would put the bunting tied from the bedroom window to the garden railings those little pieces of material blowing in the slight wind, it was always July when we had the festival and the whole of East Wall would be a burst of colour. The highlight of the festival for me was the trolley race down 'Johnny Cullen's Hill' (as we knew it then) that was the hump back bridge that separated East Wall from North Wall. We would all line up our trolleys made from old pallets of wood with our steel bearing wheels, and then the race would start. I can still remember the sound the wheels made as we descended the hill. East wall always seemed to have hot sunny days when I was 12…how things have changed."

It's all downhill from here


Witness to history

Johnny Cullen's hill is not just a local landmark. It is in many ways an enduring witness to the story of our community, and to the many changes we have experienced. The Bridge was a feature in the development of the railway, which geographically divided our area from our neighbours, yet went on to provide the most direct access to them too. It is situated on East Road, home not only to Cullen family businesses but was the location of numerous industries and a major centre of local employment throughout the 20th century, now replaced by apartment blocks and vacant office space. From a sparse population in a small number of houses on both sides of the hill, East Road and the surrounding streets are now home to thousands of residents. When the Bridge/Hill was built a magnificent Gothic church, St.Barnabas , stood at its southern base , sadly taken down in the late 1960′s, an apartment block now towering in its place.

The Hill itself has changed surprisingly little across the generations. The original cobble stones are covered by tar macadam, though due to wear and tear they are now visible again. There were wooden steps off the hill down into the Abercorn Road/Irvine Terrace enclave, recalled by Sean O'Casey in his autobiographies. These were later replaced by stone steps, now also removed and the wall filled in within the last decade. Adjacent to the hill on the Church Road side was a piece of waste land, which, following community intervention, was landscaped into the Sean O'Casey Park in 2007. This is now the site for the community Christmas tree each year.

The erecting of a name plate at the bottom of the hill is an important gesture for a community celebrating its past – Johnny Cullen's hill was named by the local's, and this title, the memories, and the folklore were preserved through generations.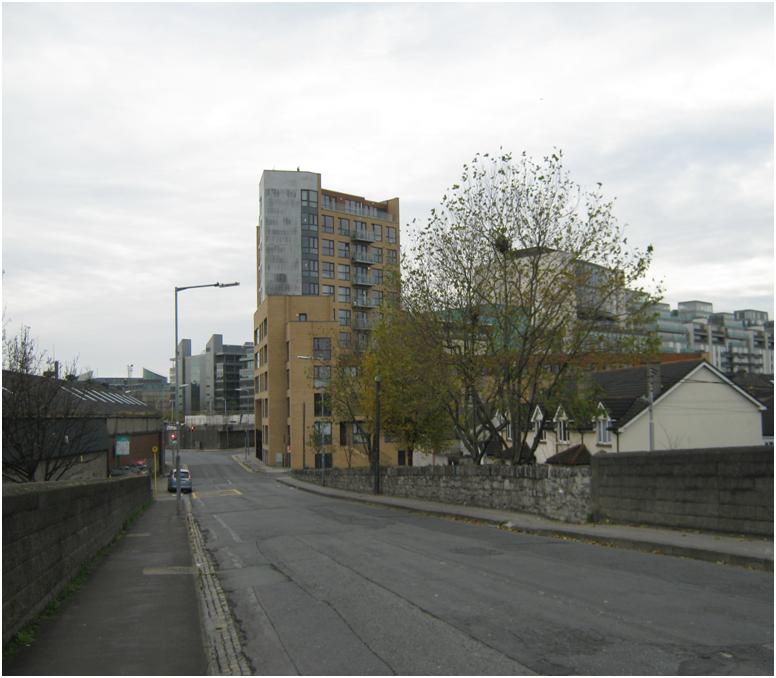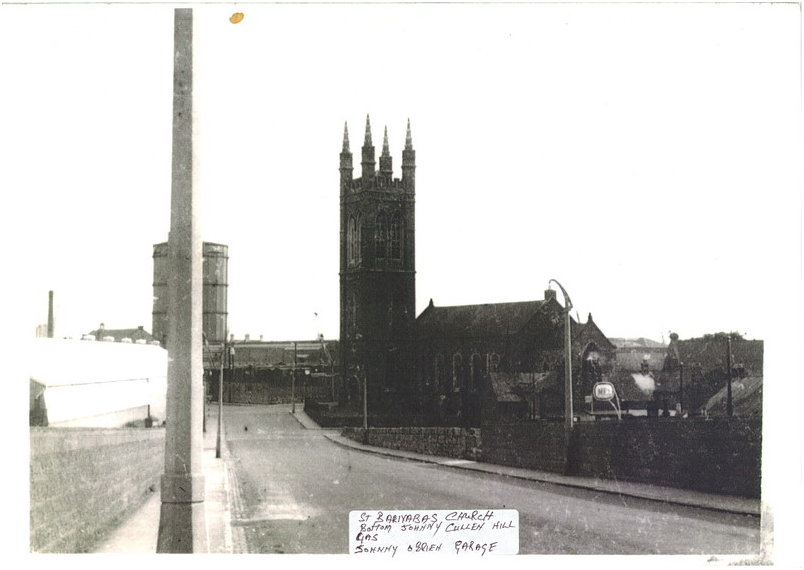 Decades apart: A view from the Hill

On Johnny Cullens Hill

This ballad was written by resident Joe O'Grady many years ago, when Sean O'Casey was alive and Barnabas still stood. Enjoy-