Sean O'Casey was a parishioner of St Barnabas Church from 1889 to 1919, initially living at Hawthorn Terrace and afterwards at Abercorn Road. He had a high opinion of the Reverend Edward Morgan Griffin who served as Rector here between 1899 and 1918. O'Casey dedicated the second volume of his autobiography ("Pictures in the Hallway") to him as follows:
 "To the memory of the Rev E.M. Griffin, BD, MA, one-time Rector of St Barnabas, Dublin. A fine scholar; a man of many- branched kindness, whose sensitive hand was the first to give the clasp of friendship to the author."
In contrast to this, O'Casey took a dim view of some within the parish, obnoxiously anti catholic and critical of the less fervent members of their own flock. His description of these brethren is most unflattering. Both O'Casey and Griffin would come into conflict with some of these elements within a few years.
 While paying tribute to O'Casey in a special sermon following his death in 1964, the Dean of Christ Church recalled his "immense and affectionate regard for the Rev…" and noted also that locally there had existed a "colony of Ulster Railway workers, who were members of the Orange Order".   The following excerpts are from "Pictures in the Hallway" .As always with his autobiographical volumes, O'Casey refers to himself in the third person as Johnny, and the parish as St. Burnupus.

"…the little church of St.Burnupus, in its desolate seat among the dust of the dowdy streets, the cinders of the bottle making factory of North Lotts, for ever pouring out it's murky plumes of smoke, the scarred heaps of mouldering bark and timber chips round Martin's timber yard, the dung of the cattle, passing in droves down to the quays , the smell of the beer-soaked sawdust, floating out from the wide-open doors of the pubs, blending its smell with that of the foul rags of the festering, fawning poor…"
"Even when the rooms were bare of fire and scant of food, he sang and wondered that life had so much to give; and he tried to share all these sights with his mother; but he saw they had but a timid and feebly whispered message for her, sending her more eagerly back to the motherly care of her crimson geranium, her golden musk, and her fuchsia, with its purple bells and white waxy sepals drooping royally over the sadness of the cracked and withering window.
Into this glowing dwelling -place of Johnny's came the new rector, to take up the pastorate of St.Burnupus. Quietly he came, introduced by the city's archbishop, who left the smoke, the cinders, the timber chips, the dung, and the hearty smell as quick as he decently could in his carriage and pair, when he had safely dumped down the new rector where he was to work for the salvation of souls. The archbishop left behind a man of middle height, some forty-five years of age, a sweet face, bearded brown, now firmly streaked with silver; eyes that sometimes glowed with a ripe autumnal friendship, and sometimes glittered with a wintry scorn; small, delicate, graceful, and sympathetic hands; a warm, sensitive, and humorous mouth; a fine presence, gracefully rugged, that endorsed the confidence of a broad and scholarly mind. A man among men; few there were that could stand beside him, and when the place was found where these few where, it would be hard to say the best of them was as good as he was.
A great stir came to the parish with Edward Morgan Griffin, son of a Methodist minister, and once one of the secretaries of the Hibernian Bible Society, so that here was one who was surely a hale protestant after the Orangeman's pattern, and a joy for ever to the simple soul believing that salvation came with the mumbling of a text of scripture. The choir began to sing well, and Johnny sat with them, singing lustily when he was in the mood, the rector telling him not to be afraid to let himself go. Bible classes flourished, and Foreign Mission work was strongly aided, Johnny acting as secretary to this activity. The vestry was enlarged and made warm and comfortable for smaller meetings. The school grew so that it had to have a new wing added; and the religious life of the parish became vigorous, homely, orderly and genuine under the direction and with the encouragement of the new rector.
 Orangemen, purplemen, and knights of the grand black chapter, with civil and religious liberty stamped on their stony faces, hemmed him in , smiled at him , and patted him on the back. Cordons of orange and blue and purple were all around him; and, for a time all new work was born in contentment and charm. The Orangemen were headed by the people's churchwarden, Frank Donaldson, secretary to the Grand Loyal Orange Lodge of Dublin, a man to whom any speck of colour on a church wall or in a window meant popery and auto-da-fesof burning protestants every morning in Rutland Square, and twice a day on Sundays. His pale, pitiless face for ever stared in front of him, seeing nothing but evil and danger of a fringe on a church cloth, and a devils conjuring trick in the sign of the cross; Edward Doosard, Inspector of the Quay Police(doddering old men, in their childhood, watching the warehouses of the Port and Docks Board, showing gold and brass where the  real police showed silver, the dockers cursing them , and the carters cutting at them with their whips whenever they got in the way), his ruby face, jowled like Dutch cheese, his bull-neck forming a circle above a white collar, like a thick rubber hose, a rusty-fleshed fat hand almost always stroking a bristly moustache, and his piggy eyes trying to tell everyone that  he was a pillar of Protestantism; and John Glazier, foreman in the Great Western Railway Goods Store; a true-blue, if ever there was one; a man who would be ready to die for his faith, his rugged face carved like a stone creviced by centuries of frost and rain; his jagged teeth showing grimly when he mentioned some taint of ritualism in  some protestant church; his hands twitching as if they were edging towards a pope's throat. …"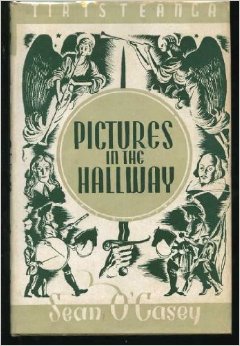 Extract from "Pictures in the Hallway" (1942)
All six volumes of Sean O'Casey Autobiographies, republished by Faber and Faber, are currently available in both print and kindle editions.
If you have a favourite Sean O'Casey extract please bring it to our attention.
Contact us at eastwallforall@gmail.com