On Saturday the 18th July the East Wall History Group will host the inaugural Sarah Lundberg Summer School. Held in conjunction with the Alternative Visions Oral History project, the event is in honour of our friend and colleague Sarah Lundberg,  an Archivist , Historian and publisher  who tragically passed away last year.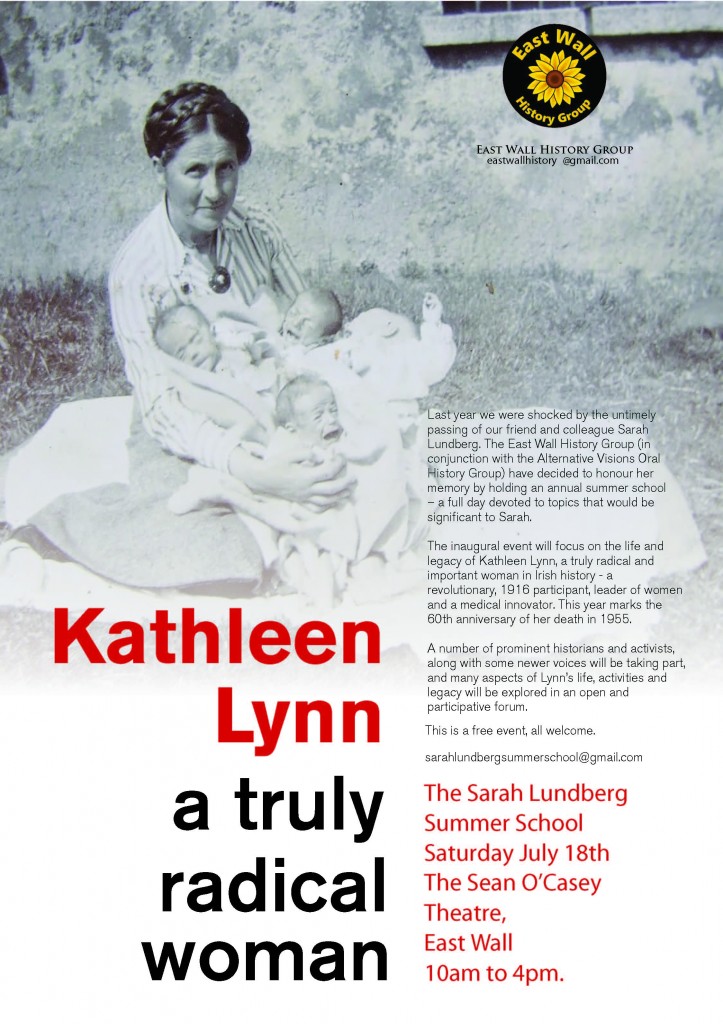 The topic of Kathleen Lynn was chosen because this remarkable woman was the subject of a major publishing project that Sarah had begun at the time of her death. This year also marks the 60th anniversary of the death of Kathleen Lynn in September of 1955.
Dr Kathleen Lynn was a lifelong campaigner for women's rights. In 1913 she became involved with the work at Liberty Hall during the great Lockout. This led to her assuming the role as chief-medical-officer in the Irish Citizen Army and an Easter Rising participant, serving in the City Hall Garrison. Imprisoned on a number of occasions for her political activity, she was released in 1918 at the request of the Dublin's Lord Mayor to help fight the flu epidemic sweeping the city. Working alongside her life-long companion Madeline fFrench Mullen, she founded St Ultans Children's Hospital at Charlemont Street in 1922. Always a progressive thinker, she was instrumental in tackling the scourge of TB and brought educationalist Maria Montessori to Ireland in the 1930's.
A number of prominent historians and activists, along with some newer voices will be taking part, and many aspects of Lynn's life, activities and legacy will be explored in an open and participative forum.
See link to facebook event page here : 
https://www.facebook.com/events/1464075143889841/1465694193727936/