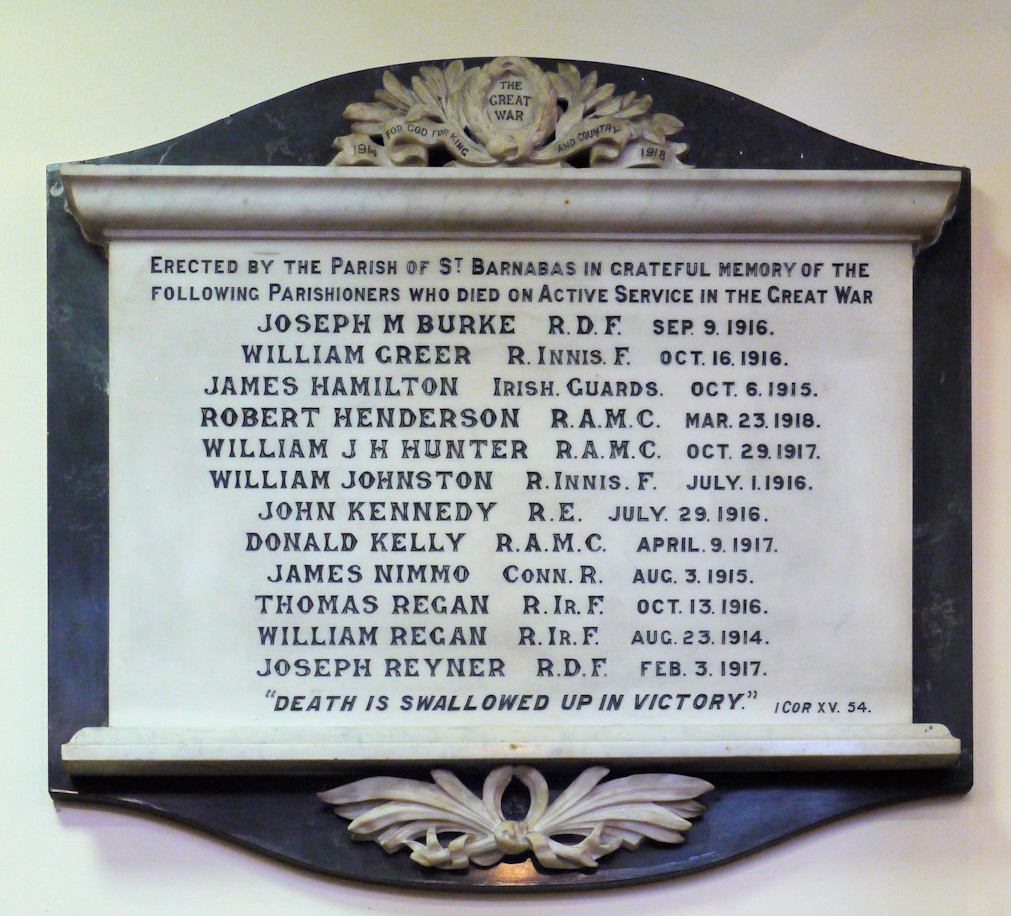 On this date, 23rd March, 1918 an East Wall man, Robert Henderson was to die in Flanders. (He lived at Ryan Avenue, which was later named Hillside Terrace and is now incorporated into Church Rd, opposite Johnny Cullen's Hill).  A private in the Royal Army Medical Corps, he is one of twelve men whose deaths during World War One were recorded on a War memorial in St. Barnabas Church, once situated at the bottom of Johnny Cullen's Hill. The memorial was unveiled in August 1919. When the church was demolished in 1969 the memorial was moved to the North Strand, where it can still be viewed. 

The above World War One memorial was unveiled at St Barnabas Church on 25th August 1919. It recalls twelve members of the parish who lost their lives between 1914 and 1918. The church was to close its doors in 1965, and was demolished in 1969. The memorial can now be seen in North Strand Church. Here are further details of those named on the memorial, based on initial research by the East Wall History Group. In some instances we could not confirm certain information and this is noted. This represents our first steps on this project- If you have further information, clarification or correction please contact us.
JOSEPH M. BURKE, SEPTEMBER 9 1916.
No details or address confirmed though possibly born in  Clifden Co Galway.
A private in the Royal Dublin Fusiliers, died at Ginchy during the Battle of the Somme,  buried at Longueval Road Cemetery, France.
 WILLIAM GREER, OCTOBER 16. 1916.
Corporal in the Royal Inniskilling Fusiliers, died age 29, buried in Belgium. Appears in the  1901 and 1911 census at number 20  Old Mayor Street. His occupation in 1911 is listed as a carter. His father Richard Greer was a yardman (while in 1901 was listed a  packet porter).
JAMES HAMILTON, OCTOBER 6. 1915.
A member of the Irish Guards.  Died at Loos, France, aged approximately 22 years. (This was the first engagement where British troops used poison gas as a weapon, with weather conditions causing injury to their own troops). Appears in 1911 Census with his family at 5 Myrtle Terrace. In 1901 they were living in number 1.2 Rutland Street Upper. His occupation is listed as clerk in wine Merchant. His father Thomas is  listed as an insurance inspector.
ROBERT HENDERSON, MARCH 23. 1918.
A private in the Royal Army Medical corps. Died in Flanders, aged 25 years, buried in France. Appears in 1911 census at number 4 Ryan Avenue. Robert is listed as boot -maker, while his father William, and Uncle James are listed as boot and shoe makers (as is Catholic boarder John Kavanagh). Address at time of death is recorded as 4 Hillside Terrace , Church Road.  In 1901 the family had been living at 19 Irvine Crescent, when  William was a signalman. 

WILLIAM J. H. HUNTER, OCTOBER 29. 1917.
A private in the Royal Army Military Corps. Died in Egypt.
While we are unable to confirm, we believe this may possibly be J Hunter listed in the 1911 census at number 12 Lower Oriel street  age 21, a Civil service clerk. In 1911, his father is listed  as a railway goods checker, while  in 1901 he was a railway porter.
WILLIAM JOHNSTON, JULY 1. 1916.
Died at the Somme, possibly a Sergeant in the Royal Inniskilling Fusiliers.
While we are so far unable to confirm, we believe this very likely to be William Johnston, listed in  1911 census aged 30, living as boarder at 3 Coburg Place. (He is one of four boarders listed at this address as Railway servants, two from Fermanagh, one from Down and one from Armagh).  The owner is James Townby, whose occupation is listed as a  bookmaker.
(Other information suggests William Johnston was originally from  Gateshead in Durham).
JOHN KENNEDY, JULY 29. 1916.
A sapper in the Royal Engineers, previously in Royal Army Medical Corps. Died in Flanders aged 27 years. Buried at Mametz, France.    His address listed as 8 Summer Street, North Circular Road. The 1911 census records his occupation as a  plumber  (with  his younger sister and brother listed as domestic servant and apprentice brass finisher).  In 1901 the family had been living at 53 Seville Place Cottages, 4th Avenue (where father Christopher was plumber).
DONALD KELLY, APRIL 9. 1917.
 A member of the Royal Army Medical Corps, died in Flanders aged 25, buried at Beaurains, France. Address listed as 37 St. Mary's Road, Church Rd, Fairview. In 1911 Donald was listed as Wine Merchant Clerk. According to census all the family were Scottish born. His  father Angus, who had passed away before his son's death, was a plumber and brother John was an apprentice plumber.  In 1901 the family was living at Room 6 in 17 Lower Gardiner street.
JAMES NIMMO, AUGUST 3. 1915.
A private in the Connaught Rangers , killed in action in Flanders, age 23, buried in France. Had lived at least two addresses in East Wall. In 1911, and at time of death listed at 44 Caledon Road, East Road. In 1911 father James listed as Fireman in manure works, and brother Thomas (who also served in the War) as labourer in iron works.  In 1901 they had lived at room 1 – 25 St Mary's Road, a two room tenement. His place of birth listed as Possilpark, Glasgow. 
THOMAS REGAN, OCTOBER 13. 1916.
Died at Ypres . A private in the Royal Irish Fusiliers, died aged 26 . Buried in Carnoy Military Cemetery, France.   In 1911 census a Thomas Regan listed as nephew of  Glazier family , living at Number 1 , North Dock Street. His uncle Thomas Glazier listed as Railway Head Porter. Thomas was listed as railway-man.  Born in cork (see below).
WILLIAM REGAN, AUGUST 23. 1914.
A private in the Royal Irish Fusiliers, died aged 22, the brother of Thomas Regan. William does not appear on the 1911 census.  In 1901 Census Thomas and William listed as 11 and 9 years respectively at 17 Broad Street , Co. Cork).
 No exact details of death found. He is the earliest fatality listed for the parish, his death occurring less than three weeks after Britain declared war on Germany. (On this date the Royal Irish lost 350 men at Le Mons. Mobilised at such an early stage indicates he was not a recent recruit).
JOSEPH REYNER , FEBRUARY 3. 1917
No exact details of death found. A private in the Royal Dublin Fusiliers, aged 29/30 at date of death.  Buried in France.  Joseph Reyner of 22 Leland Place is listed in 1911 Census as Railway Porter (aged 23). Place of birth listed as Nenagh, Co. Tipperary. 
The East Wall History Group , in conjunction with the North Docks Peoples Voice Project, is committed to researching and presenting the story of our community during World War One . We will be covering all aspects  – those who fought (whatever motivated them), those who opposed the war, and the residents who were affected in many ways. All contributions welcome, contact us at
eastwallhistory@gmail.com