The Sarah Lundberg Summer School 2023 will be " SAY A SONG: The words & music of Philip Chevron", taking place at the Sean O'Casey Theatre on Saturday 24th June. This will be a celebration of the life, art and legacy of Philip Chevron, and will include contributions from family, bandmates, friends and collaborators. A number of those who cannot attend will make video contributions, and here is another wonderful submission from an old school friend. Gerry Kavanagh (Senior Library Assistant, Special Collections., National Library of Ireland).
Where to start?
  I suppose "this graveyard hides a million secrets – the trees know more than they will tell" is as good as any. Philip Ryan, as he was known in O'Connell Schools, was a classmate of mine. We both attended O'Connell's from the mid-60's to the mid-70's. Those lyrics I just quoted are from his "Song of the Faithful Departed" and when I hear them I am transported back to that classroom in '73, or 1974, in North Richmond St, where we sat together for certain classes. Back then certain teachers made you swap seats; so for one class you sat next to one person and another person for the next class. That song is peppered with Joycean and Yeatsian references and many of the images in that song come straight from that classroom. Across the street, if you looked through the beams of sunlight and floating chalk dust, was one of Joyce's many boltholes, where he stayed one step ahead of the rent man and further up the street was the big grand house that inspired Joyce's "Araby". Don't believe all that guff by the Brudders, about the Church driving Joyce out of Ireland, it was the bailiffs!
Another Brudder, who taught us regularly used the phrase "poetry in paralysis" and anyone who attended a C.B.S. school back in the 60's, knew all the heroes of 1916 wore wings…………………made to measure history, indeed.  "We'll even climb the pillar like you always meant to" will ring true to a generation of working-class Dubliners, who never quite got around to climbing Nelson. It was always on the long finger for us and then when one did, he blew the bleedin' thing up! Ironically, Liam Sutcliffe, the man tha' done it, lived around the corner from me in Drimnagh, but that's a story for another day.
This brings me back to another insight, possibly lost today. O'Connell's was the popular name of the school, but officially it was O'Connell Schools, as the Brudders regularly explained. The reason for this they said was because it incorporated St Canice's on the North Circular Rd, (the Norrier), near the Russell St junction and St Laurence O'Tooles, (Larriers), over in North William St. There were very few pupils in O'Connell's from the locality, because the Brudders always reminded us that they were better off attending Canice's or O'Tooles, because after primary school, they would most likely be attending the Tech; pigeon-holed and ear-marked from an early age.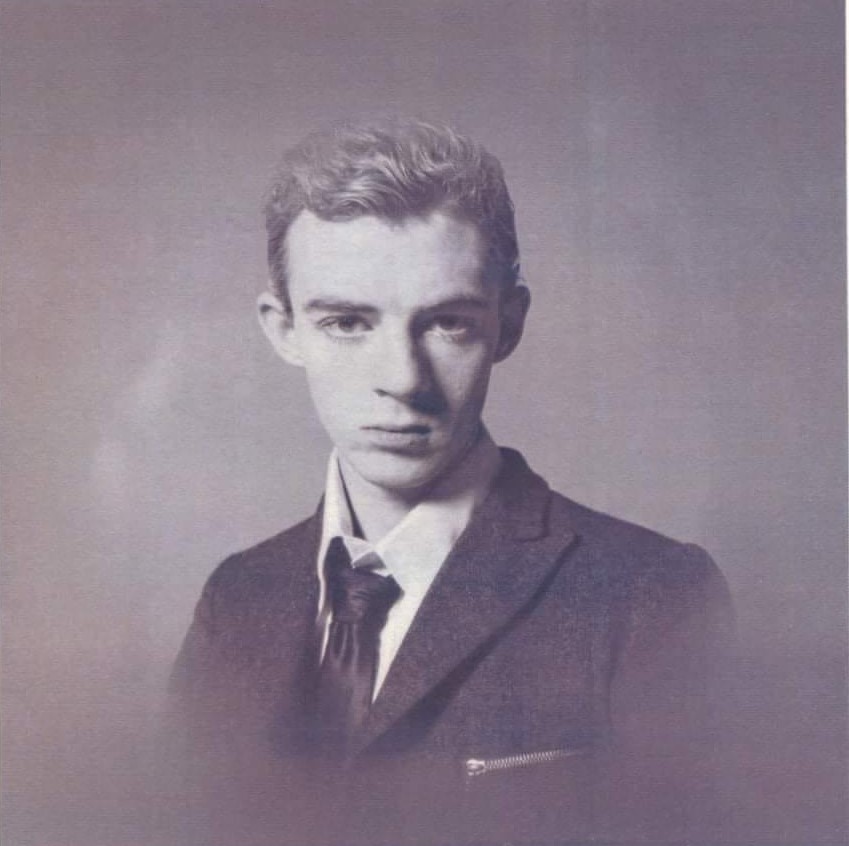 So, Philip from Santry ended up next to me from Drimnagh, while other classmates came from Whitehall, Lucan, Finglas, Cabra and especially along the Navan Rd………anywhere where there was a feeder bus service. Philip was not sporty and seemed more interested in Maureen Potter and her Gaels of laughter. In truth we all were, but most thought it was cooler to talk about football. Philip's love of theatre was instilled in him by his father, Philip Sr, who in later years wrote some excellent books on the subject and on some of the characters therein. He wrote books about Jimmy O'Dea, Noel Purcell and the Lost Theatres of Dublin with great knowledge and even greater love. He wrote about the living theatre of the city and the actors that were loved by ordinary Dubs, not that mausoleum known as the Abbey, where all the snobs and bores were holed-up. These were the roots from which Philip Ryan grew to be Philip Chevron.
 I remember our English teacher, who was Scottish! To be precise, he taught us English. No more than 5'4", he had total control of the class and enthralled us with tales of how he had been at Woodstock. He had a great way of connecting with the class and in doing so, he enhanced our knowledge of English. He would often say, instead of writing an essay on a given subject, write an essay on whatever you like! Or he might say to Philip, bring in your guitar and sing us a few songs. This was polar opposite to what you got from the Brudders. Philip was only too willing to oblige and perform for the class. That has struck me often how certain people, who might be described as shy, will get up and perform on stage. That was Philip.
He came into his own, when he became editor of a school magazine. For the life of me, I can't remember its title. Although always quiet, he also had a hard neck and a steely determination, too. He never had a problem approaching the school authorities, as in that instance, to suggest setting up the "school mag", which was a great success and was well supported and contributed to. It had everything in it, from daily school matters, to reports from Dalyer, or Croker,  to a review of the latest L.P. by Rory, Horslips, or whoever, which was often ripped by the writer (often me!) straight from the pages of the N.M.E.!
His lack of respect for convention was evident when he convinced Brother Garvey, the Head Bro', to allow Planxty play a unique gig in the school hall, one wet afternoon in November 1972. Well, in my mind's eye it appeared to be November, maybe it was May! I can still hear the unbridled roar, as Christy's vocals on The Raggle-Taggle Gypsy faded, only for Liam Óg's pipes to come to the fore, blasting out "Tabhar Dom Do Lámh". It was a rare moment of spontaneous combustion, from band and audience! As well as conceiving and organising the gig, Philip appeared in the support band that day (as did his sister Deborah). Resplendent in a top hat covered in sequins, he and the band he was in, T.L.C. played a short set. He was a hero after that gig, because not only did we have bragging rights over other rivals like Belvo, or Coláiste Mhuire in Parnell Square, we got an official half day off school! Unofficial days off were another matter! "Mitching", or "going on the hop" was not only a regular pursuit, it was an obligation. Quite often, we'd go down to the Garden of Remembrance to see how many coins you could fish out of the water and then if the weather wasn't great, you'd head to the pictures. On one occasion, a few of us went to the Savoy to see "Shaft in Africa", which was a sequel to "Shaft", the hugely popular Blaxploitation film. That type of film was very popular then, with Super Fly or Black Belt Jones being good examples; now that I think of it, there was even a vampire film, named "Blacula" ! But what all of those films had in common was their soundtracks were brilliant. If it wasn't Isaacs Hayes, it was Curtis Mayfield; if not the sound of Detroit, it was the Philly Sound! So, it wasn't a surprise to see Philip already in the cinema that afternoon. What was surprising though, was seeing so many other classmates there, as well. Out of a class of 48, about a dozen were "as láthair" from school that afternoon. By the way, TLC referred to "tender, loving, care" and as far as I recall the band members were all followers of the Guru Maharaji, who claimed to be 15 years' old and the supposed reincarnation of somebody or other. Years after his release from jail in Oregon for tax evasion, he was still claiming to be 15! The rumour at the time was that his collection of 79 Rolls Royce's raised suspicions that led to his conviction!
Although he never said so, school didn't hold Philip's attention very much. I suspect he found it stifling. He had his sights set on greater things, even if he hadn't quite worked out what those things were. We often slagged him about his girlfriend out in Sandymount, even though we knew very little about her. It was Agnes Bernelle, the German actress and singer, who was by then resident in Ireland. Because of their love of theatre and songs, Philip spent many afternoons in her house, rehearsing and collaborating, which came to fruition 4 or 5 years later when at only 20 years of age, he produced her debut album, "Bernelle on Brecht and.", while she, a legend of stage and screen, was in her late 50's. Imagine that! In those days, if he wasn't out in Sandymount, he might be found in the Stadium. Horslips, and in particular, Eamonn Carr and Barry Devlin, were great supporters of Philip back then. They would send him postcards from their tours, especially in America, telling of their adventures and giving him encouragement. They always signed off their missives with the words "rock on, Philip", followed by all their signatures. You don't know how envious we all were, when he'd show them in class.  Worse, when Horslips returned home he'd be missing for two days, down at Stadium for the sound-check and hanging out with the band. I can clearly remember the polaroid photograph he showed the class of him on stage at the sound-check, throwing a shape while playing Barry Devlin's green shamrock-shaped bass guitar.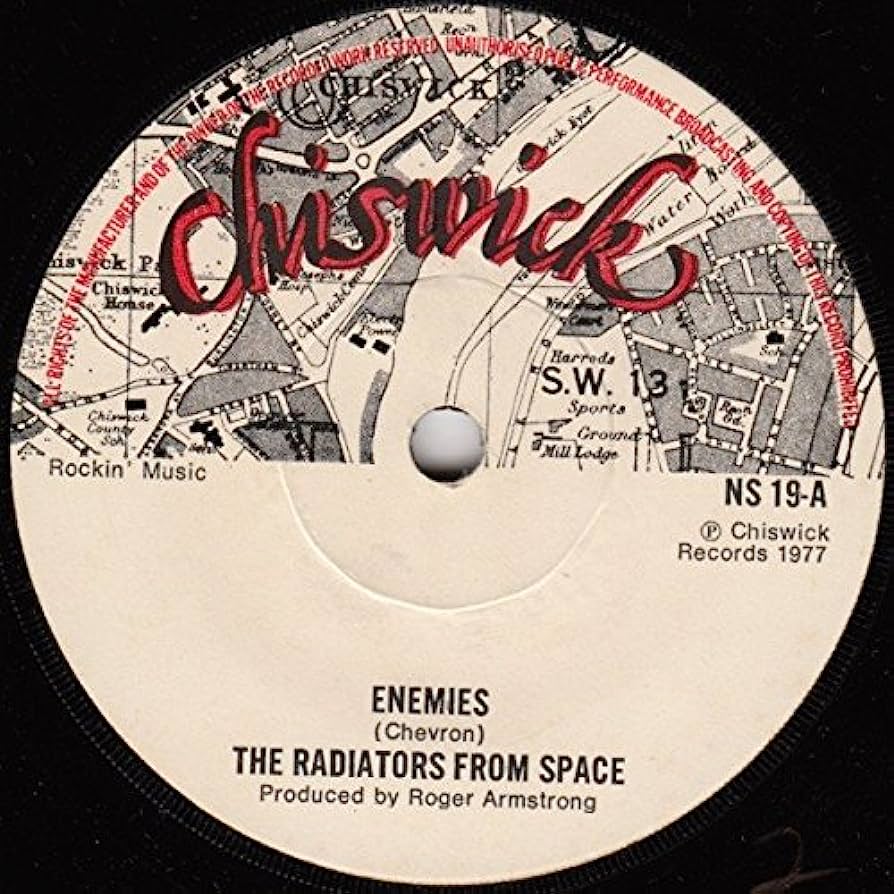 I opted out of school in my final year, because I had gotten a job in L.M. Ericsson's in Upper Mount St and next thing you know, Philip ended up working next door for an advertising company. It was obviously just a stopgap, because he soon ended up forming the Radiators From Space, who were Dublin's first punk band of note. So many other bands who wore flairs one day and played the blues, changed their trousers to ankle chokers with rips in them and suddenly were calling themselves punk bands back then. But the Radiators were bonafide. Their debut, "T.V. Tube Heart" was excellent and well received except by one magazine, the N.M.E. Foolishly, someone there thought that their second single, "Enemies" was a criticism of them. But London was the place to be in those days and that's where Philip went. He was working on a stall, selling records. Some would have thought, "well that's a waste of a good education!" In fact, it was all part of his musical education, because it was the Rock On stall, which was renowned among music lovers and record collectors. That's another thing that's often overlooked, us youths back then, got the mailboat to Holyhead and then the train to London for the weekend, occasionally, just to visit the numerous record shops and stalls in and around Soho and if there was a decent band playing somewhere in Wardour St, even better. Rock On and Chiswick Records are indivisible and that's no doubt how the Radiators recorded with them. Come to think of it, Phil Lynott even namedrops the Rock On stall in "The Rocker", one of Thin Lizzy's anthems. The connection there being that Ted Carroll co-owner of Chiswick, Rock On & Ace records, was formerly the Thin Lizzy's manager.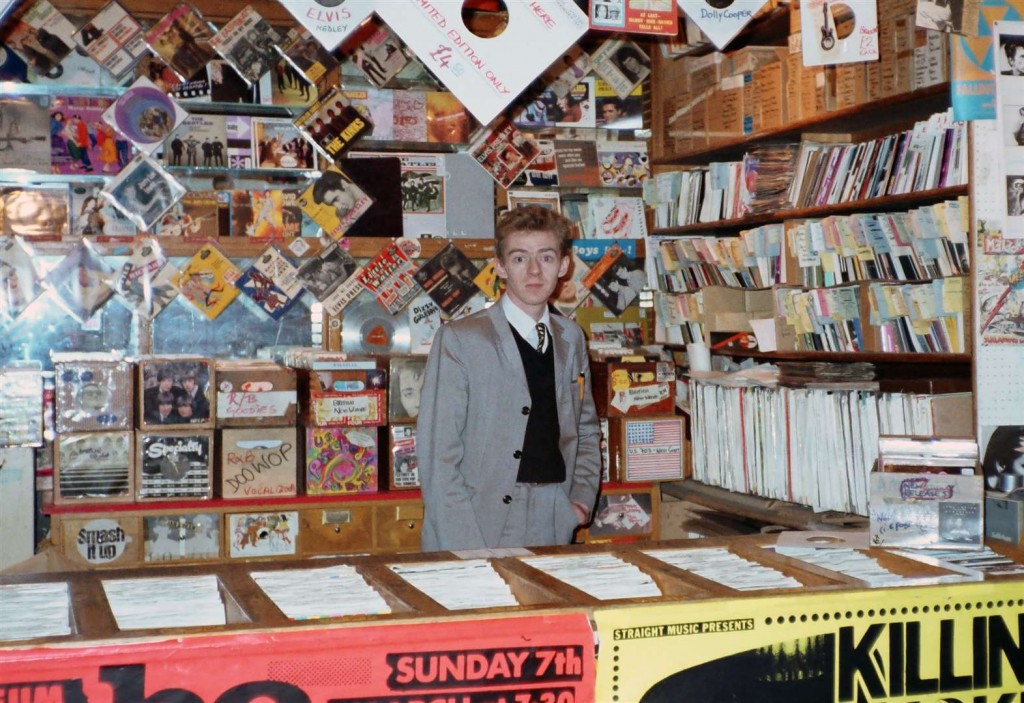 I won't go on talking about the Radiator's history, because I'm sure there are those, who know more and who could tell the tale better. But I often wonder what if? The release of the band's second album,"Ghostown", generally regarded as a classic, was delayed and didn't appear in the shops for two years. Punk was a 100-yard dash, not a middle-distance race and with the delay, the momentum had stalled and who knows what might have been to the band, had the record been released a when it was actually recorded.
 
The last time I saw Philip was in Moran's Hotel, where the Hammersmith Gorilla's were due to play. They were another band on Chiswick Record's roster. Philip was there, dressed in a bright orange plastic mack, with matching plastic sandals and sunglasses, which oddly complimented the colour of his hair. The Gorilla's never got to play, after all, because as far as I recall, Jesse Hector the three-piece band's leader, had a meltdown on the mailboat and at the last minute, Full Circle, replaced them. Now there was a garage band! Made up of members of the 1960's beat group, called The Greenbeats, they mashed the place up, like mad uncles dancing at a wedding! I only saw Philip as I left the gig and our greetings were brief, and little did I know that it was to be our last. In 2005, our class had a reunion, which occurred in the clubhouse of the school's ground in Clontarf. Philip was "working" that night and couldn't be there……………but he made sure we heard him, because across Dublin Bay in Lansdowne Rd he was on stage with the Radiators, belting out Television Screen, where they were special guests on the U2 gig. He phoned the reunion party to give his apologies for not being with us and swore he'd be at the next one.
So that's my tuppence worth on Philip Ryan, who, later burst across the sky like a super nova as Philip Chevron. He was a mild-mannered seditionist, who laughed at authority and did things his own way and who was never "blinded by the sun", or a shiny suit, for that matter. So, Philip, "dress yourself, and bless yourself, you've won the fight and go and celebrate tonight!"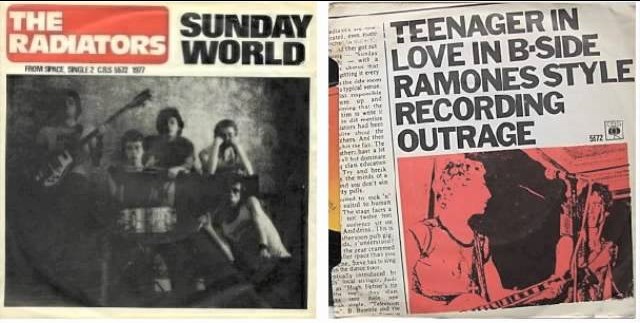 Finally, writing this piece brings back so many memories of growing up at a fantastic time in Dublin, despite what our official chroniclers might tell you. It was one big party! This is all the more poignant for me, since tomorrow will be my 66th birthday and a week from now, it would've been Philip's 66th, as well. But when I remember those times and in my mind's ear I hear the Radiators blasting out Dion De Mucci's "Why Must I Be a Teenager In Love", I'm reminded that I'm forever 18……………with 46 years' experience, of course!
Yeah, "Rock On Philip!" 
All welcome to celebrate the life, art and legacy of Philip Chevron:
Images: Family photos courtesy Deborah Blacoe
Say a Song design : Stephen Averill
Other images: Radiators From Space archive and online sources.
A big thanks to Gerry Kavanagh for this wonderful memoir, and HAPPY BIRTHDAY !