Bloody Sunday 1920, East Wall and the one who got away.
The events of November 21st 1920 are among the most talked about from the Irish Revolutionary period. Remembered as 'Bloody Sunday', the day saw a total of 31 violent deaths in the city – 14 targets associated with British Military Intelligence , 14 shot dead when British forces opened fire at Croke Park and three men summarily executed in Dublin Castle that night.
At approximately 9am members of Michael Collins 'squad', along with volunteers from a number of IRA battalions, launched a series of co-ordinated attacks on British Intelligence operatives across the city. The majority of targets were on the South-side (in reasonably affluent areas) except for the Gresham Hotel (where two men were shot dead) and an unspecified target in
East Wall.
Information on the East Wall operation is scarce, but using the recently released Military Service (1916-1923) Pensions Collection we can now confirm some details. Up to now the available information consisted of a location – East Road, and a summary of "This operation did not come off as the targets had left the house the day before and there was nobody at home when the Volunteers called. Apart from the name of the road, nothing exists on the targets .It had been allocated to 2nd Battalion and appears to be the only one of their operations which did not come off."
In fact , the target was on Church Road , and in their military pension applications two members of the 2nd Battalion , Dublin Brigade , Irish Republican Army, make reference to their participation in Church Road 'job' .Details are still scarce- neither the exact address or the individual targeted are mentioned , but hopefully further material will be forthcoming. For anybody who does not know the geography of the East Wall area, East Road and Church Road merge, and it is easy to see how confusion might arise.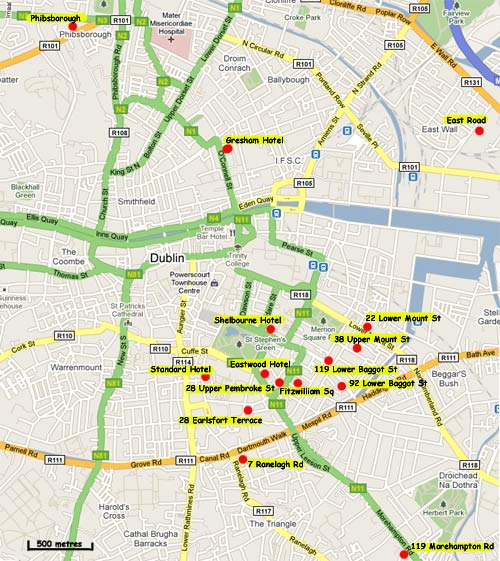 Captain William Byrne states simply in relation to November 21st operation that his role was "organising for job and making preparations on job at church Rd.  – the man wasn't there."
Michael Smyth gave a little more detail. He states that on Bloody Sunday he was on Church Road, and gives the following detail "We went to this house in Church Road. There was a man there but not the man we wanted. We took away all the correspondence of the man we wanted who was down in Cork".
Both Byrne and Smyth were experienced and well regarded volunteers. They were 1916 participants having served in the Jacobs Garrison. Here are some further details of both mens record of activity during this period –
William Byrne had worked for the Dublin Port and Docks Board but this "Pensionable job lost in 1916". Like many other republicans he afterwards worked in the Dublin Dockyard, where Irish Citizen Army man Willy Halpin was the shop steward and favoured republicans and Labour men. While here he availed of the opportunity to'make munitions' and took part in a raid for '17 pounder shells'. He detailed some of his local operations as "the planning. preparations and carrying out of the attack on the Customs House in Dublin in May 1921, the burning of the city of Dublin Stores and an attack on members of the Auxiliary Police Force (Auxiliaries) at the London and North Western Railway Hotel that same year".
Following the treaty signing he joined the National Army in March of 1922.
Michael Smyth was a carriage painter by trade, and had lived at a variety of addresses, including Buckingham Street and Bayview Avenue. Amongst his many activities during this period he lists -
"provision of bolt cutters for use in escape of Frank Teeling, Simon Donnelly and Ernie O' Malley from Mountjoy Prison; and transportation of material to be used in the Customs house attack in May 1921"
And further elaborates that he "Invented and made bolt-cutters for escape of frank teeling …" and that he commandeered and "Brought lorry with paraffin to custom house…"
Unlike his Captain, Byrne, he took the anti treaty side, and was eventually arrested by the National Army but was arrested on the North Strand in a commandeered car with weapons and ammunition stolen from the Custom House.
Smyth (nicknamed 'Tiger' Smyth) was a well respected operator, and his former comrade, General Tom Ennis claimed that "On the formation of the National Army I offered Michael Smith the rank of Captain if he would join, which offer I again repeated when he was a prisoner in Gormanstown Camp – both of these offers he turned down".
Sometime in the 1940's he moved to number 49 West Road, where he remained until his death in 1967, survived by his widow Margaret Leech.
 
Our research into the North Docks during the revolutionary period is ongoing. Recently Joe Mooney and Hugo McGuinness met up with Peter Duffy, the UK secretary of the Collins 22 Society. His family were participants in local activity during the period, and a very useful discussion and exchange of information took place, and contact will continue. If you have any information, memorabilia, clarifications or corrections relating to this period please contact us.
 (Map sourced from http://www.cairogang.com/  a website well worth reading for information on the British Intelligence operation and the IRA response from this period.)