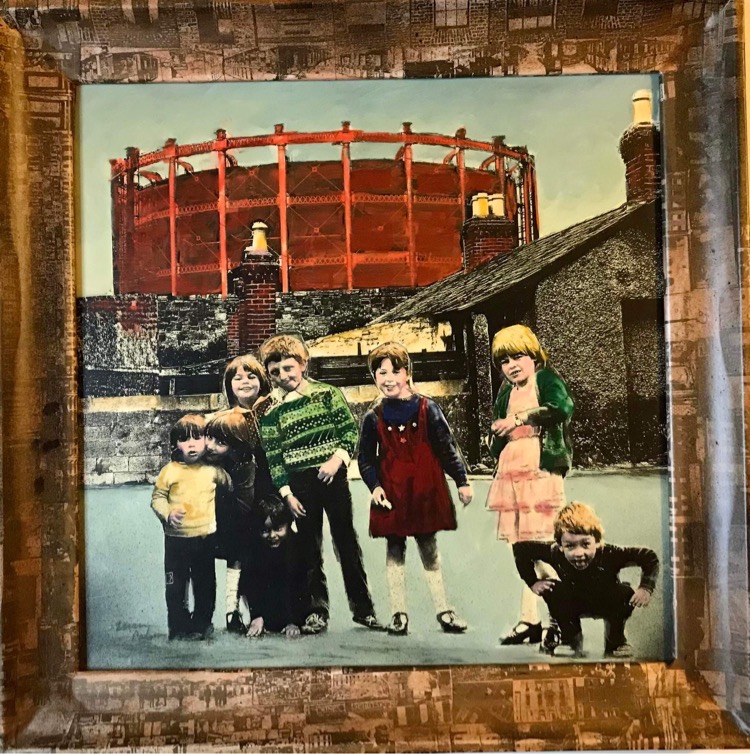 The Sean O'Casey Festival 2023 is delighted to announce that a new art exhibition by Brian Palm will be displayed throughout the festival, from Monday 11th September until Saturday 23rd September.
The exhibition , FRAGMENTS FROM LIFE will be on display at the official opening of the festival at the Sean O'Casey Theatre on Monday 11th September @ 7pm.
FRAGMENTS FROM LIFE
By Brian Palm
As the title suggests, this exhibition captures fragmentary moments in the lives of Dublin city dwellers captured on film decades ago by a young art student. The large archive of black and white photographic negatives created by Brian Palm in the late 1970s and early 1980s have now developed historical significance simply by the passage of time, and they provide a fascinating insight into that era when seen as photos in themselves. However, once the photos have been manipulated by the artist, collaged together and combined with oil paint, pencils, sprays and varnish, they become works of art depicting the city in a deeply personal sense.
The artist focuses on fragmentary moments of time, echoed by a wealth of smaller scale imagery collaged into the picture frames adding a subtle visual subtext. This extra narrative re-enforces the main image with more information, while optically mimicking the heavily ornamented gilt picture frames from centuries past. A sense of bittersweet nostalgia for a bygone era permeates the work, combined with a pragmatic understanding that the artist coexisted in these fragmented moments as well, and captured them with a camera for posterity. It is the cohabitation of the same city streets by locals and a passing artist which directly led to the creation of these images, but it is the artist's solo occupation that transforms them into art.
Brian Palm's work is fully supportive of the people and communities he depicts; he took photos of the community in which he lived, and where he was well known and respected. His camera was not a voyeur or interloper, he didn't use it to expose or condescend. He used it to document aspects of life from that time, as he saw and felt them. A clear sense of trust exists in the eyes and faces of the people he chose to photograph, and there were many lifelong friendships made while creating this large body of work. While delving into this archive for several decades, the artist has created a large body of professional work which constitutes the output of a richly productive artistic career.
This latest exhibition from Brian Palm provides a glimpse into a specific time in Dublin's history, with hints of stories from life quickly absorbed in passing but captured for eternity.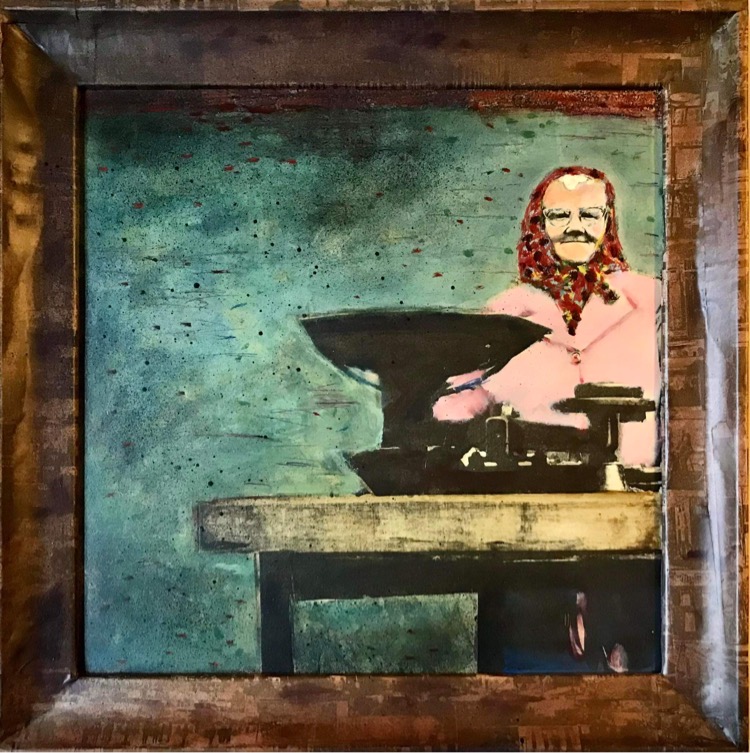 Brian Palm was part of Dublin Ghosts, a very memorable musical evening during last years festival, taking to the stage with Pete Holidai & Tony St Ledger (Trouble Pilgrims) and Phelim Drew. We are honoured to have him return with a different expression of his artistic talent.
Brian Palm was born in Hartford, Connecticut in 1957 and moved to Dublin, Ireland in 1977 to attend the National College of Art and Design, graduating with an Honours BFA in 1981. Palm remained in Ireland and has maintained a studio in Dublin throughout his career. He has regularly shown his work in solo and group exhibitions including the Royal Hibernian Academy's Annual Exhibitions, Royal Ulster Academy's Annual Exhibitions, Eigse Exhibitions, Iontas Exhibitions, and many others. His work is on constant view in The Duke Street Gallery, 17 Duke Street, Dublin where the artist has held annual solo exhibitions since 2015.
Palm showed dramatic new work in his solo exhibition 'Down Our Way', in February 2015. The show was a triumph and was followed by 'Myths of the Helga', inspired by a notorious Irish ship. The show of maritime themed shadowbox sculptures and paintings was held in commemoration of events from the 1916 Rising. The exhibition was officially opened by Commodore Hugh Tully F.O.C.N.S. 2017's 'In the Neighbourhood' brought a return of Palm's urban based work, then in 2018 'On Land and Sea' combined the two strands in a single exhibition, marking the Centenary of the sinking of HMS Leinster. A painting from the exhibition was used for an Irish postage stamp, and the show was officially opened by Col. Stephen Ryan, Irish Defence Forces.
In 2021 Palm held 'Cognitive Dissonance', an exploration of the psychological effects of lockdown through a delicate series of confined cityscapes. Despite the limitations of the time as we came through the Covid era, the show was hugely successful and seemed to capture the public's imagination.
Brian Palm has exhibited widely throughout Ireland and his work has been sold at auction with Adam's, Bonham's, White's, Mullens, O'Driscoll's, Drums, and with Sotheby's in London. Brian Palm has been the recipient of several Arts Council of Ireland awards and bursaries, and the artist has had numerous residencies at the Tyrone Guthrie Centre, Annamaghkerrig, the Cill Rialaig Project in Kerry and the RHA Atelier Programme.
Brian Palm's work is represented in numerous public and private collections in Ireland and abroad. Brian Palm's work is available at www.dukestreetart.ie and is also presented by Saatchi at www.saatchiart.com
Brian Palm is also a highly regarded professional musician of international renown.
Brianpalm51@gmail.com
http://www.linkedin.com/pub/brian-palm/47/414/245 http
For details of all other events see here:
https://www.eventbrite.ie/o/the-sean-ocasey-festival-17781759064