On the 8th December 1922  four republican prisoners were executed by the Free State at Mountjoy Gaol . The evening before one of the men, Rory O'Connor, had been playing chess with his comrades. Upon receiving the news of his sentence , he handed his chess set to fellow prisoner , the North Wall man Bill Gannon . This set is still proudly held by the Gannon family , and featured in the recent RTE show "National Treasures". Dara Gannon tells shares the history of his family , the chess set and it's place in Republican history:
****************************************************************************************
"The Gannon family, the 'Nalty chess set' and the comradeship of heroes" 
Most people in Ireland grew up with a picture of the Pope, Padraig Pearse or JFK in pride of place on the wall. The Gannon family had a picture of James Connolly in their houses over three generations. My Great Grandmother Mary Leonard originally hung it in Jane Place off Oriel Street, from where her husband Johnny had joined Jim Larkins Union and was locked out. The same portrait was hanging in the Gannon home on Middle Mountjoy Street in 1936 when Jack Nalty & Frank Ryan played chess the night before they off for Spain.
 The chess set had belonged to Rory O'Connor and was given to Bill Gannon in Mountjoy Jail. Both had been in the Four Courts at the outbreak of the Civil War and subsequently jailed together. On 8th December 1922 O'Connor was executed alongside Dick Barrett, Liam Mellows & Joe McKelvey. Having played on it the evening before his death, he handed the set to Bill saying he wouldn't be needing it now. The man who signed their death warrants (and a total of 77 executed Republicans) was Kevin O'Higgins, an act that would have fatal repercussions. Bill was part of a three-man IRA group which shot O'Higgins dead at Booterstown five years later.
Despite this poignant history, the chess set was always associated with Jack Nalty, not Rory O'Connor nor even Frank Ryan, who spilt whisky on it that last night in Dublin. The family have consistently obeyed the instruction "never clean the stain off that board as it was made by an Irish Hero". My Grandfather always just simply called him Nalty, & the set was known as 'Nalty's chess set' in the family. It was passed to my father Pat Gannon when Bill went to New Zealand before the second world war.

The Gannon's were a well-read Republican family who were involved in the Lockout, the War of Independence, the Civil War, left wing politics and the Spanish Civil War. My father (who is 82) was born the same year Jack Nalty went to Spain. While many anecdotes and passed down memories have survived, this is not a historically researched piece, it is a family history that is worthy of further expansion.
 The Gannon family moved from North County Dublin (near Oldtown) to the North Dock. My Great Grandparents Johnny Gannon and Mary (nee Leonard) were described by Mick O'Riordan as "a 1913 striker and a Fenian". Johnny was a carter on the Docks, and according to family lore he wanted to be the first man to join Jim Larkins Union but having gone out celebrating the night before and he ended up being number 7 in line to sign up. Their children, my Grandfather Pat (Pa) Gannon and his siblings Mai, Bridie, Maggie, Bill, and Jack were brought up in a house where politics and progressive ideas were expressed openly.
The Gannon boys were students in Laurence O'Tooles on Seville Place, where prominent Irish Republican Brotherhood man Frank Cahill was a teacher. At the outbreak of the War of Independence Bill became involved with the IRA. Frank Teeling, a neighbour in Jane Place was part of Michael Collins Squad so I assume Bill became active through him. Pa Gannon was also involved but not to the same extent. According to family folklore Bill was 'out' on Bloody Sunday 1920. One account identifies him (with two other men) as bringing a Lewis Machine gun from the city centre to Coolock and then back the next day, possibly in a stolen car. I have also heard that Bill was involved in the burning down of the Customs House, being one of the men who escaped the British cordon thrown up after the initial assault. He put his gun in a bin and went into a barbers or dentists on Beresford Place and skipped the queue. When soldiers came in they arrested the man at the end of the queue. Many experienced IRA men were not so lucky. Bill was also in the Four Courts in 1922. Before the age of 20 he had been present at the destruction of two of Dublin's most iconic buildings.
He was also at Connolly Hall on Strand Street when it was firebombed by a mob of anti-communist protestors in the 1930's. Bill's sister Maggie ('Peggy') had by this time married Sean Murray of Cushendall, a War of Independence veteran. Sean had gone to Moscow after the October Revolution and studied at the Lenin school there, and afterwards was a founding member of the Irish Communist Party.
Bill was a bus driver, while 'Pa' was a plumber. 'Pa' would have known Jack Nalty from working on the oil terminals in the Docks, and through the IRA and other political activity the Gannon's, Nalty and Kit Conway became close friends. One anecdote tells of Kit Conway relieving young Gardai of handguns, which were given to young fellas who passed them onto Bill Gannon who was watching a Matinee (Cowboys & Indians) in the North Strand Cinema.
 With the outbreak of the Spanish Civil War, Bill Gannon and Sean Murray were instrumental in organising support from Ireland. According to one account "…the decision was taken to form an Irish unit for the Spanish Republican Army. The Communist Party of Ireland gave the task of recruitment and organisation to Bill Gannon, a Party member who had considerable experience of political work in the Irish Republican Army". Bill was reputed to have wanted to go to Spain but Sean would not let him go as he was married with children. It was preferable that younger, single men like Nalty, Conway, O'Riordan & Tommy Woods would carry on the fight. Many of their friends and comrades would never return.

 
Jack Nalty never received a burial but is remembered on the family grave in Glasnevin Cemetery Dublin. Bill Gannon is buried in Mount Jerome Cemetery, Harold's Cross, Dublin. Jim Prendergast, a fellow IRA man and International Brigadier shares the unconsecrated grave. The funeral of Bill Gannon in 1965 caused upset as both tricolour and hammer & sickle flags were placed on the coffin before his burial. This was front page news in the Evening Herald and Irish Press, described as an outrage and affront to the National flag.
 
Jack Nalty is still remembered by the Gannon family to this day and each time the chess set is played upon his name is spoken…with pride.
This article by Dara Gannon originally appeared in the commemorative booklet to commemorate the 80th anniversary of the death of Jack Nalty . Available from Connolly Books , Essex Street , Dublin or contact 
eastwallhistory@gmail.com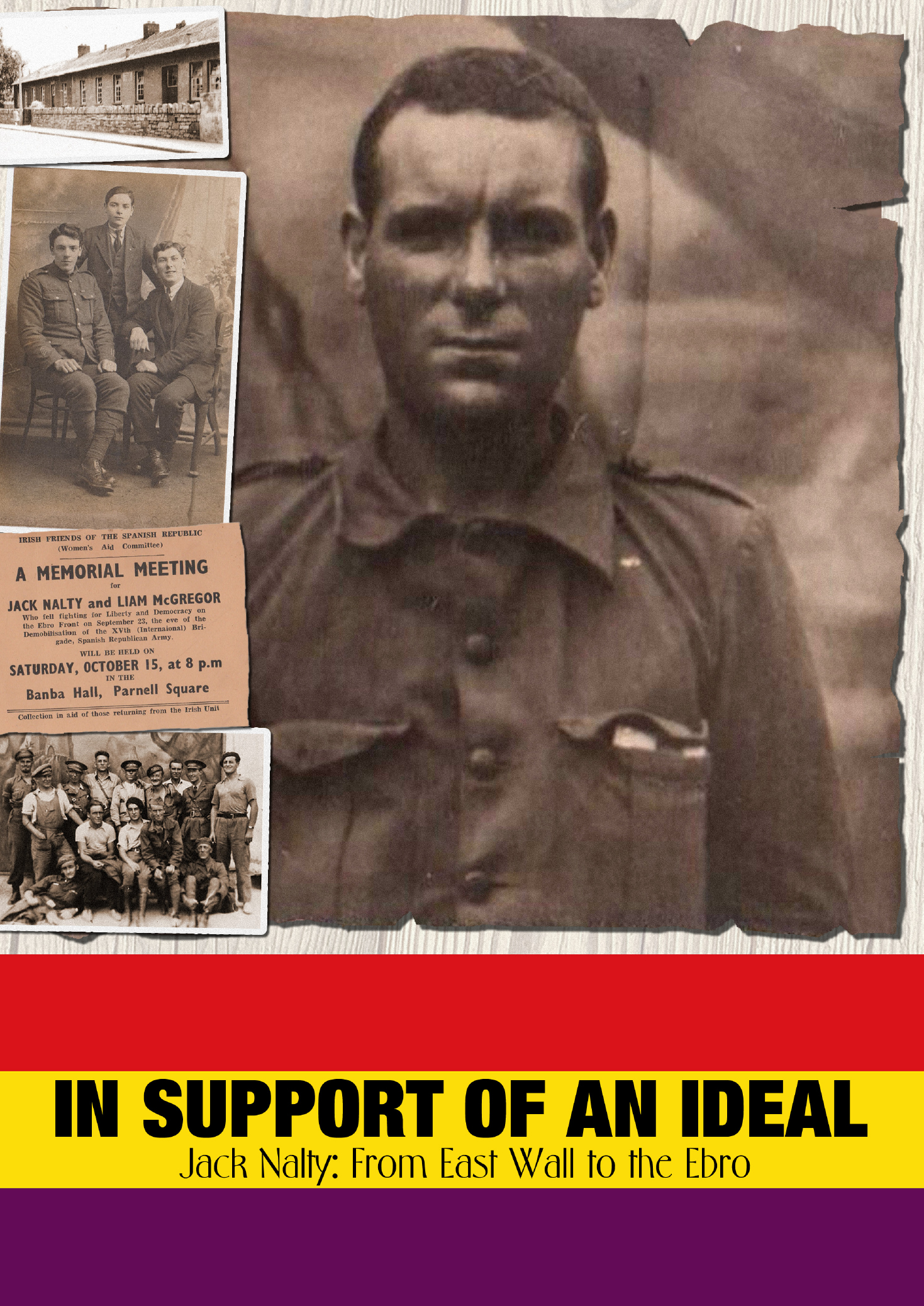 Images credits :
Dara Gannon and Gannon family
Nugent family (relatives of Jack Nalty)
Rory O'Connor material -  Toírdhealach ó Braoín
 Conway obituary was published in the Daily Worker , New York in March 1937 Courtesy – Belinda