Pride of Place plaques unveiled throughout the area
I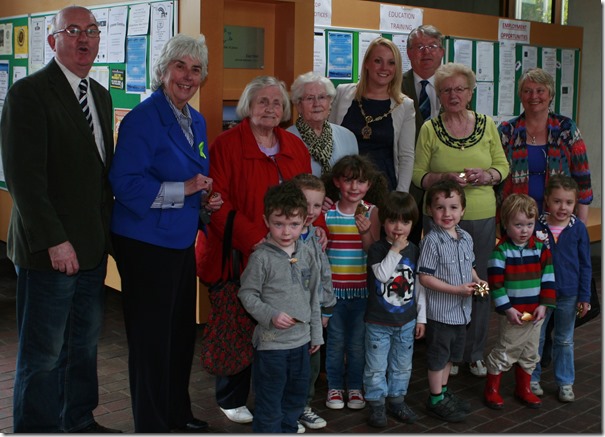 Claire Byrne the deputy Lord Mayor paid a visit to our community on Thursday 23rd May. This was to unveil the Pride of Place plaques commemorating the community winning the top spot in the national Pride of Place award 2012. Each venue which was visited by the judges in last year's competition received a plaque, which can be seen around the community.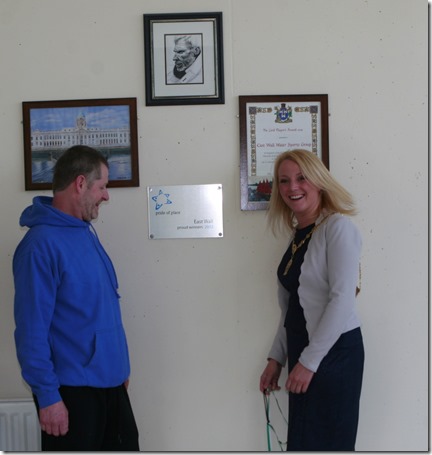 On the day the Deputy Lord Mayor unveiled plaques at the East Wall Water Sports, St.Joseph's Co-ed School, Paddy's the Butchers and the Sean O' Casey Community Centre.
The staff and visitors at the Water Sports gave the Deputy Lord Mayor a tour of their facilities. It was a beautiful sunny day  and a great day was had by all.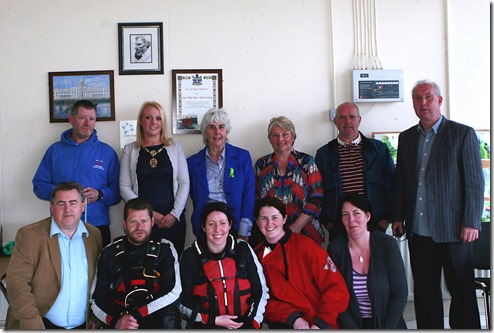 Particular praise must be given to the boys and girls, as well as th Principal and teachers of St. Joseph's Co-Ed School. The welcome they gave to the Deputy Lord Mayor through songs, readings and the guard of honour by the sixth class should make their parent's teachers and the community very proud.
The window display in Paddy's shop showed the commemorative prize, Lord's Mayors scroll, and certificates awarded to the community for their achievement.
Members of Daisy Days crèche gave great assistance to the Deputy Lord Mayor in unveiling the plaque in the community centre, which turned into several unveilings due to the high level of enthusiasm and long line of volunteers. This can be seen from the photographs below

Mary Downes and Josie Waller (who were amongst those who represented our community at the awards ceremony in Limerick) also welcomed the Deputy Lord Mayor when much needed tea and coffee was provided. A chit chat and photos with the Men's club also helped to make the occasion very warm and welcoming.
The community should be very proud of their achievement – Pride of Place is a 32 county award. It was a great honour for our community to take part in and to win.
Hopefully we can build on our success and make our community the best it can be for everyone.
See collection of Pride of Place stories here: http://eastwallforall.ie/?cat=7