1913 Lockout song performed in East Wall
Francie Devine performs "Who fears to wear the Blood Red Badge"
The East Wall History Group recently hosted a talk by Francie Devine entitled "Who fears to wear the blood red badge ?" . This title comes from a song first published in the pages of "The Irish Worker" in October of 1913 , while Dublin was engulfed by the events of the Lockout . " The Irish Worker" was the paper of The Irish Transport & General Workers Union (ITGWU) and was edited by Jim Larkin . Francie concluded his talk with a rousing and well received rendition of the song which can be viewed here .
                                                                                                                                       The story of the 'blood red badge'
Francie explains the background of the red-hand badge in this excerpt from "Organising History – A Centenary of SIPTU" :
"A final legacy of 1913 is the union's red hand badge . The ITGWU issued annual badges, making use of elements from the arms of the four provinces . In 1913 it was the red hand of Ulster . In 1918 when the ITGWU was reorganised , the Executive adopted the red hand as it's permanent emblem to honour the men, women and children of 1913 . It caught the imagination. In 1924 the Workers Union of Ireland also chose it. In 1990 SIPTU maintained the tradition of the ITGWU  and FWUI and proudly adopted the red-hand badge."
The entire talk was recorded , as was the 'Songs From The Docks' section with Paul O'Brien and these will be available shortly to view on this website. Thanks to Bas Ó Curraoin for recording the event.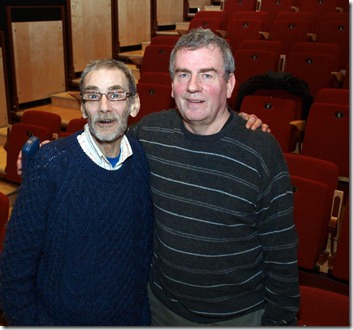 East Wall resident Colm Halpin with Francie following talk .
Colms Grandfather was a local member of the ITGWU in 1913 .
Reminder : This year is the centenary of the 1913 Lockout , which had a major impact on East Wall and the whole Docks area .  The East Wall History Group is working hard to present the story of how this major event affected our community . If you have any memorabilia , family stories or even ideas on what we should include please get in touch as soon as possible .    eastwallhistory@gmail.com