There's a great quote often attributed to Joe Strummer of the Clash, describing his musical philosophy as "Three chords and the truth". He might indeed have said those words (and so too may have Johnny Cash) but in doing so he was quoting a country musician from the 1950′s which is when the phrase originated. It's a great quote, and just shows how decades apart artists – be they songwriters, musicians, dramatists etc – can be striving to achieve the same effect and with the same intent. And in trying to create something new, part of the process can involve reaching into the past and co-opting what has gone before to create something new. So let's talk about Sean O'Casey, Trouble Pilgrims and the truth.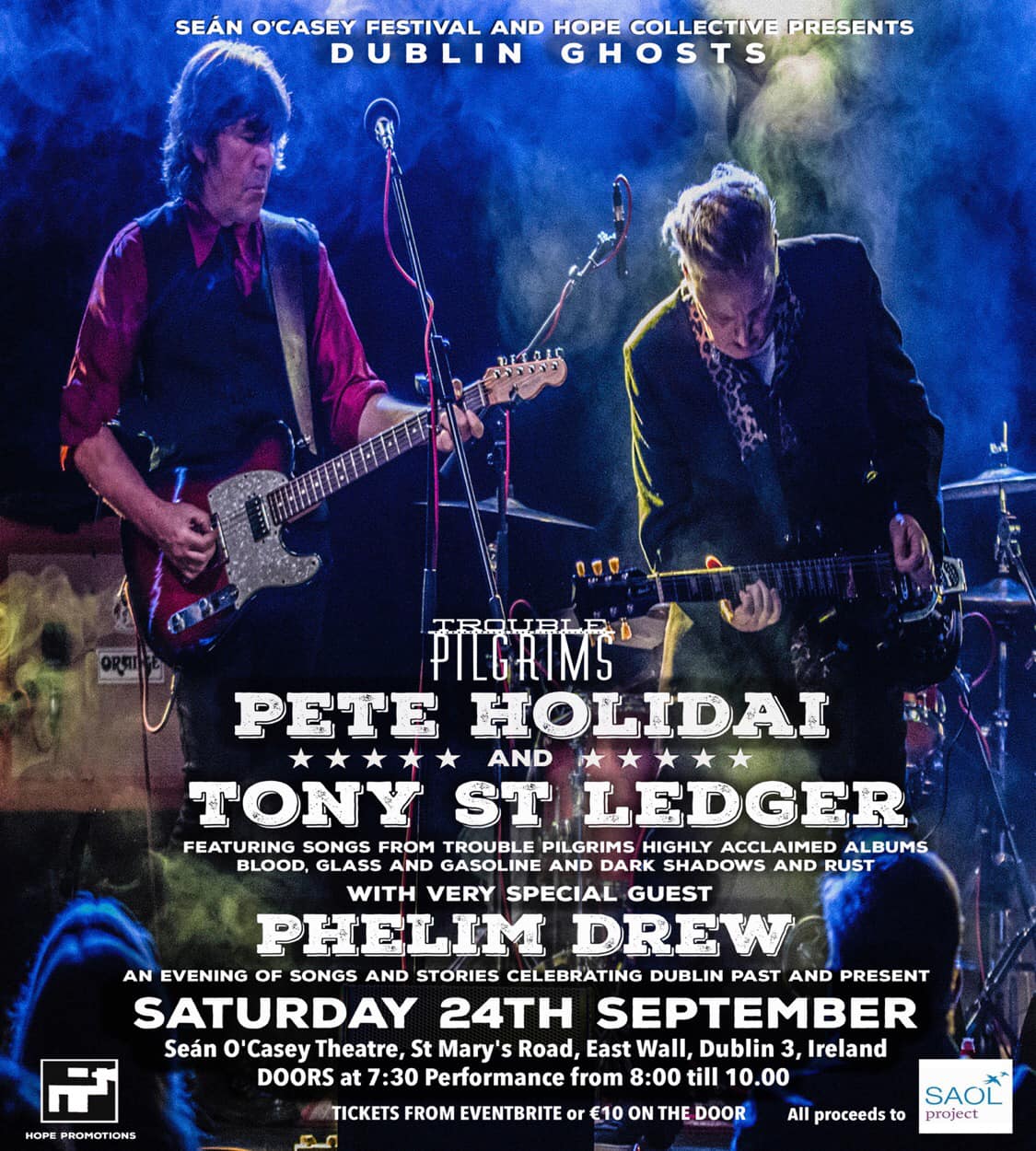 When the programme of events for the Sean O'Casey Festival 2022 was being discussed somebody noted the event involving Pete Holidai and Tony St Ledger (Trouble Pilgrims). "That's an interesting choice" they said, but I knew they really meant "That's a strange choice". I can see why they might think that, but I can also see they were wrong, and were missing a very big point.
This is a favoured quote from Sean O'Casey, and I generally incorporate it into my talks or walking tours and will often use it in conclusion, because more than anything else it shows to me the measure of the man. This was in 1919, before he had achieved any notice, let alone fame as a playwright.
"I am sure that many who have known me in the Gaelic League, in the national organisations, and in the Labour movement will readily admit that Sean O'Cathasaigh never hesitated, even to save himself unpleasantness, to speak what he believed to be the truth."
Essentially, he was going to call it as he saw it and damn the consequences. Now that's a punk rock attitude if ever there was one.
Sean O'Casey wanted to change the world. He didn't like what he saw in Dear Dirty Dublin and involved himself with many of the revolutionary currents of his day. He became profoundly disappointed with many trends (and persons) within these movements and became, or made himself, an outsider to the great movements as they moved towards that "Terrible Beauty". He was not opposed to revolution (and he certainly was not the coward or pacifist he has often been misrepresented as) but he saw the working class as the vanguard for change and felt that the cause of the common-man was being abandoned, often for abstract idealism. As he observed the changing landscape of the revolutionary and counter-revolutionary nation, he made a conscious effort to utilise his art as a tool for change, and he made the stage of the Abbey Theatre a battlefield and his dramas became his weapon. Three acts and the truth? Like he had predicted himself, he didn't "save himself unpleasantness". In 1926 he left Dublin, becoming an outsider in the material sense, and only returned for one short visit until his death decades later.
Let's jump forward half a century to 1976. Ireland was no country for young men. Unemployment was rampant, armed conflict raged, poverty was endemic and for many the well-worn path of the emigrant was their best prospect. Modern Ireland wasn't much to sing about. But there was that ever present Raidió Éireann jingle to remind us 'If you feel like singing, do sing an Irish song', so what do you think happened next ? The Radiators from Space happened next. Four young men from Dublin, they were Ireland's first 'punk' band, and their debut single was the first punk record to reach the top of the charts anywhere in the world. They felt like singing, it was an Irish song, but it was a song for their Ireland-
"I'm gonna smash my Telecaster
Through the television screen
'Because I don't like what's going down"
In the very country, in the very city, and on the very streets O'Casey had left behind him, they too would use their art as a tool for change – the gig halls and airwaves the battleground, with musical instruments their weapon of choice. And sure weren't some of their earliest live shows in Moran's Hotel, practically within spitting distance of the Abbey Theatre.
An incredible debut album "TV Tubeheart" followed, and in 1979 the masterpiece that was "Ghost town". Considered by many to be among the greatest Irish albums of all time, it may have been recorded in London, it may have been produced by Tony Visconti (David Bowie) but it wasn't just an Irish album – it was Dublin.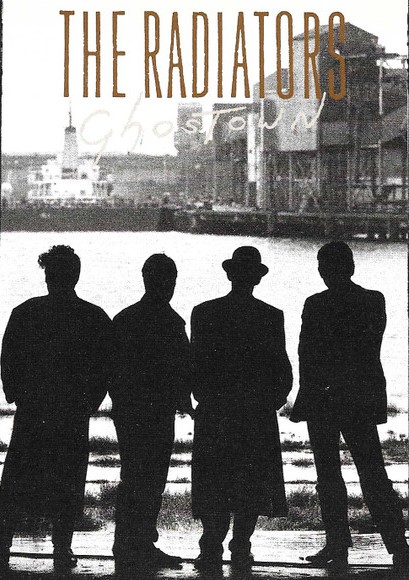 Re-released for its 40th anniversary three years ago, Irish music expert Michael Murphy laid some of the lyrical influences bare and placed the album in its correct historical and literary category ie. right up there with the best of them:
"This is profoundly upbeat intricate music with decidedly downbeat inner-city blues lyrics. Here the literary references spark a feeling of euphoria and possibility. There's lots of Yeats here, including "greasy tills", "terrible beauty" and "the catch cry of the clown" while Sean O'Casey's The Shadow Of A Gunman, and James Plunkett's Strumpet City are mentioned by name. But the Radiators were not wannabe James Joyce's in Doc Martens, although they referenced his seedy "night town" in Kitty Ricketts'. They were young Dubliners using the best part of Irish culture in their own creations. Is there any better tribute to society's dead poets than young people grasping their lyrics and weaving them into their own work?"
The band went their separate ways soon after but re-formed for "one night only" in 1987 to play at an 'Aid-against-Aids' benefit in Dublin. That night they played some of their greatest tracks, but most importantly debuted a new song "Under Clerys Clock". Written by Phil Chevron, it was a simple plea that a gay person could meet their date at the traditional spot – under Clerys clock, just 'like other lovers do". In an era when Aids was dismissed as a gay plague and homosexuality was still against the law it was a brave song, and certainly historically vital as Irelands first 'out' gay love song.
Thankfully the band would abandon the 'one night only' idea and would reform, play gigs and record a number of albums in later years. And still relevant, and still Dublin. The 2006 album "Trouble Pilgrim" features the song 'Huguenot' which addresses the changing face of Ireland as a nation of Immigrants not emigrants. It challenges the negativity of some of the responses -
"Ancient city on cobblestone
Songs and stories of world fame
From Weavers Square to Mount Jerome
And skipping rhymes from Golden Lane.
But now these streets have new tales to tell
from Georges Dock to Temple Bar
Stand up and tell them who you are".
With the sad passing of Philip Chevron in 2014, it was agreed that with the loss of their friend and original band member it was time to bring the Radiators to a conclusion, and Trouble Pilgrims emerged to continue the musical journey. It's two albums later, and when 'Pilgrims Pete Holidai and Tony St Ledger step onto the stage at the Sean O'Casey Theatre they are bringing with them decades of musical experience and a whole lot of Dublin history. Among the songs written in recent years are many steeped in City history – "Instant Polaroid" recalls the near legendary man on the bridge, "Animal Gang Blues" looks at the dark side of the inner city while "Resurrectionists" revives a grim trade in old Dublin. And of course, they are ever relevant, and like O'Casey are prepared to shine a light on some of the terrible sights of our city – "Heroes of the Night" is dedicated to those who reach out to help the hungry and the homeless who are an ever-present reminder that maybe O'Casey was right, maybe the common man & woman has been abandoned.
"Light a penny candle
For the homeless and the weak
Take a trip to Monto
Windows staring never speak".
For the first time ever, Tony St Ledger and Pete Holidai at the Sean O'Casey Theatre on Saturday 24th September. They will be joined by very special guest Phelim Drew, for an evening of songs and stories.
There will be more than three chords, and plenty of truth.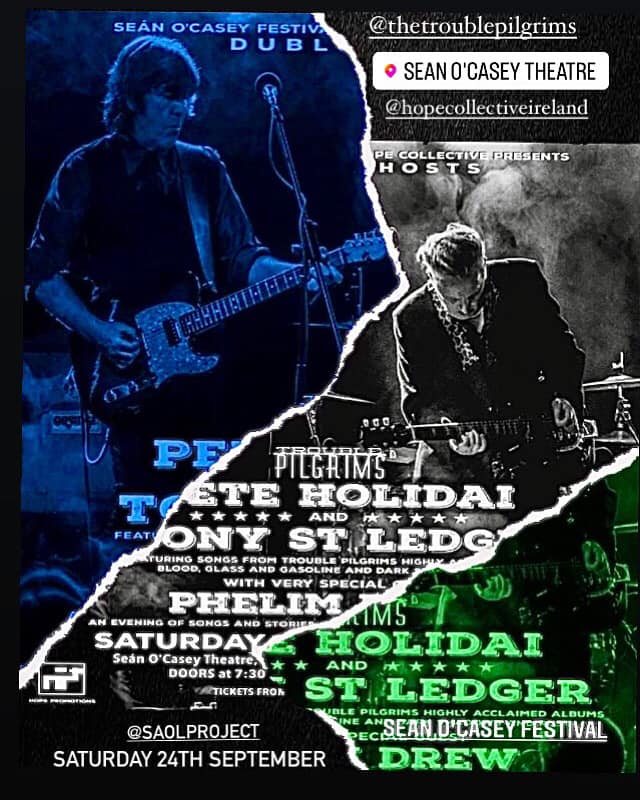 Tickets available just 10 euro on the door or via eventbrite .
All proceeds will go to the SAOL Project , supporting and providing a safe space for women experiencing addiction issues in Dublin City.