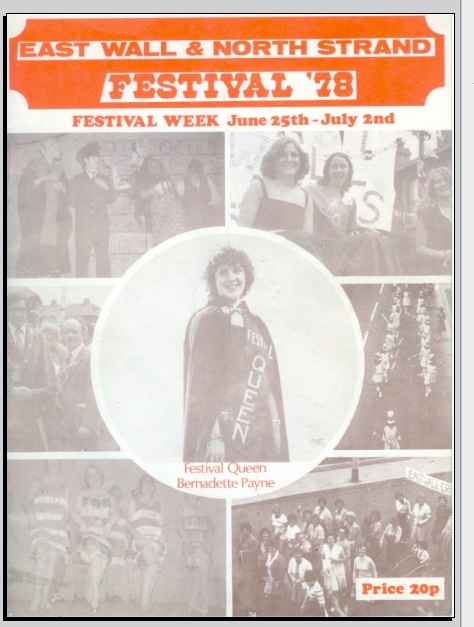 TO VIEW THE FULL 1978 BROCHURE PLEASE CLICK HERE
The Community of East Wall has been honoured to be chosen to represent Dublin City Council in the national "Pride of Place" initiative. We are delighted to participate , and we all know the tradition of community spirit and a sense of "pride of place" are not new concepts in East Wall . In the mid to late 1970′s the community festivals were tremendous occasions , and are very fondly recalled over 35 years later . The brochures produced each year are testament to the efforts made by the community in those days – long before the advent of home computers and desk top publishing they are professional and lovingly produced . Containing not only a timetable of events ( and impressive it was too) , each brochure was also a collection of art and literature by local residents , history articles and social commentary . Each of the four brochures produced (1975 to 1978) are wonderful souvenirs of those moments in our communities history , and reading them today the sense of community and the "pride of place" felt by those involved is unmistakable.
As our community prepares for the "Pride Of Place" events of 2012 , it is timely to recall what has gone before.Today we present in full the 1978 edition for you to enjoy and share . Each week in June another years brochure will be made available .Today we present in full the 1978 edition for you to enjoy and share . This is the last reprint of the 1970′s brochures , we hope you enjoyed them . While we are all working hard to make the current events as memorable as previous years , we certainly have a high standard to meet !
Enjoy…
(Scanned brochures courtesy of Joe Mooney / Paul O'Brien )