"Nothing additional remains to be said. That volley which we have just heard is the only speech which it is proper to make above the grave of a dead Fenian"
That was the entire oration delivered by Michael Collins at the graveside of Thomas Ashe on this date, 30th September 1917. Thomas Ashe was a member of the Irish Volunteers and in Easter Week led one of the most successful engagements of the Rising at Ashbourne . He was sentenced to death for his role but this was commuted to life imprisonment and he was released as part of the general amnesty. Two months after his release he was arrested for making a seditious speech and sentenced to two years jail. When the prison authorities refused to grant political prisoner status Ashe and other republicans began a hunger strike. A brutal regime of force feeding was introduced, which led to his death in September. His funeral was a momentous occasion for the Republican movement – his body lay in state at City Hall before making it's way to Glasnevin Cemetery, followed by 30,000 mourners. Members of the Volunteers and Irish Citizen Army took part side by side, and after a volley was fired over the grave side, Michael Collins delivered the short-sharp oration quoted above. Not as lengthy or as eloquent as that delivered by Padraig Pearse at the Graveside of O'Donovan Rossa two years earlier, but in many ways as powerful and fitting for it's moment in Irish Revolutionary history.
Amongst those greatly affected by the death of Thomas Ashe was Sean O'Casey, who knew Ashe for a number of years . Both had an involvement in pipe bands – O'Casey with the St Laurence O'Tooles (based in Seville Place) and Ashe with the Black Raven band (based in Lusk). In 1913 their respective bands had competed in an all Ireland Championship held in Galway. Apparently they often met and walked along the Quays and discuss politics, and according to Ashe's sister: "They were united in feeling for the wrongs of the Dublin tenement dwellers". After his death O'Casey wrote 'Lament for Thomas Ashe', published before the funeral took place and possibly distributed outside Mountjoy Jail. He also wrote a short pamphlet which appeared in October, and expanded and reprinted the following year as 'The sacrifice of Thomas Ashe.'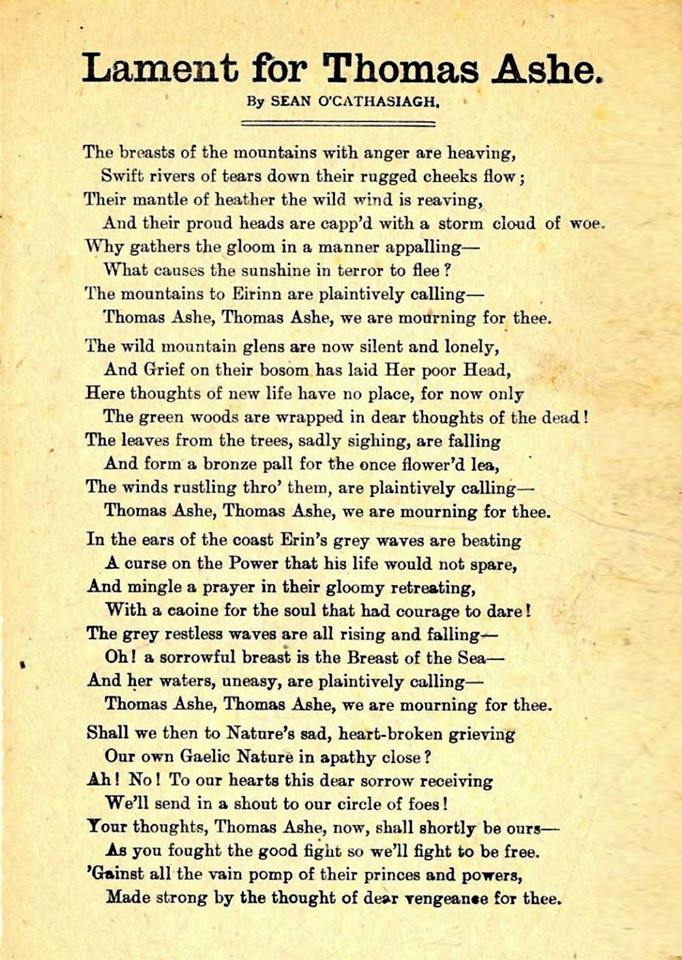 While the tone of O'Casey's tributes to Ashe may seem at odds with his later assesment of other Republican figures and the nationalist movement of the time, this matter is somewhat clarified by a letter he sent to the Dublin Saturday Post –
"Labour has reason to mourn the loss of Thomas Ashe: he was ever the workers' friend and would have always been their champion … it would be well if every Sinn Feiner followed in his steps".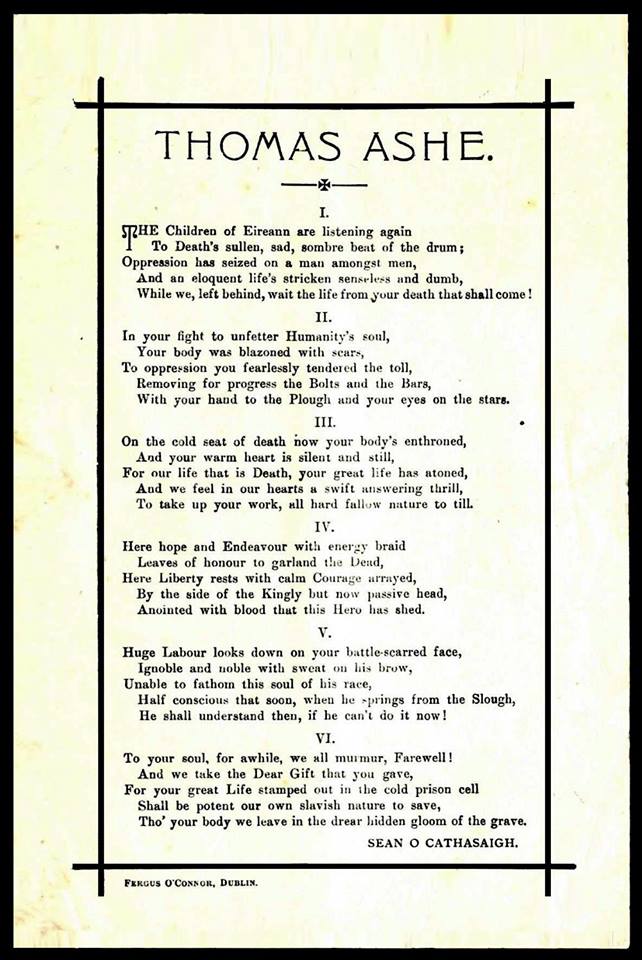 Amongst the firing party at the funeral was Irish Citizen Army member John Whelan (believed to be fourth from left in photo). In 1935 Whelan moved to number 64 Seaview Avenue, where he lived until his death in 1960.
eastwallhistory@gmail.com
(Images of Poems as originally printed  courtesy Aidan Arnold)