"Ah I'm going Liz, the lads will think I've swallowed the anchor"
 These words were spoken by Christopher Wolfe to his wife on the 27th December 1917 . He left his home at Jane Place (off Seville Place) and that evening set sail on the SS Adela , a Tedcastle & McCormick steamer that had sailed the route between Dublin Port and Liverpool for almost four decades. This was to be it's final voyage , as just hours later it was struck by a single torpedo , fired by German U-boat U-100 . The SS Adela and her crew were to be the latest victims of the German policy of 'Unrestricted submarine war' , the targeting of Merchant vessels in the coastal waters of Ireland and Britain.  Twenty four lives were lost in this terrible attack , with only the Captain , Michael Tyrrell surviving. Shay Wolfe , the grandson of Christopher tells his family's story.
Christopher Wolfe
(1885 -1917)
My Grandfather Christopher Wolfe was born in 1885 and was raised in Leland Place, Common Street in the North Wall area of Dublin.  His mother was Margaret Byrne (born either 1855 or 1858) and his father was also Christopher Wolfe (born 1846 or 1847).  He had 5 sisters and one brother (Maggie, Teresa, Bridget, Agnes, Lizzie and Lawrence).  According to the 1901 census he worked as a quay labourer in Dublin. However, in June of that year he signed on board his first ship, as a 'boy' on the Duke of Leinster. This was a  Dublin & Manchester Steamship Company  passenger ship ,who also operated the SS Hare on the same route .Christopher would actually move to Manchester where he married Elizabeth Tully on 16th June 1910.  They had only one child, my father, Christopher Wolfe.  They then moved back to Jane Place, off Seville Place (behind Amiens Street train station), and he started working for Tedcastles. He was a winchman on the SS Adela.
 When he was killed in the sinking of the SS Adela he left behind his wife Elizabeth and their son Christopher, who was only 6 when his father died. Like so many others they lived in poverty.  His wife went on to remarry twice (Mr. Rowan and Tommy Byrne) but didn't have any more children.   She brought up her only son who grew up and marriedBridget Wolfe (Murphy).  He and Bridget had 6 children (myself, Christy, Paddy, Don, Larry and Elizabeth).  He now has lots of Grandchildren and great-grandchildren.
 My own dad worked for a few different shipping companies and did 14 Atlantic convoys.  At the end of one of these he was looking for a berth back to Dublin from Liverpool where they had landed.  He approached a Captain who, after looking at his papers, realised that he had known his Father.  In a twist of fate that Captain was Captain Tyrrell, the only survivor of the sunken SS Adela.  He told Christopher that his father was down below in the ship and wouldn't have stood a chance when the torpedo came in. As a winchman he would have only been back on deck unloading the cargo when the ship docked.
 My Grandmother Elizabeth lived with us in 

80 East Road, East Wall

 and we would often hear her sobbing at night. She had had a very hard life and we don't think she ever got over the loss of her first husband Christopher.  She told us that she didn't want him to sail that day due to the large number of deaths at sea, but he pinched her bum and said "Ah I'm going Liz, the lads will think I've swallowed the anchor"  (this mean to retire from sea-life and settle down on shore).  We also found out that the censor restricted reporting ship losses to stop propaganda for the Germans.  She said there were always women crying on the docks and she always made us pray for sailors on stormy nights.  We also heard rumours that the SS Adela had carried arms for the rebels in Dublin.
My Grandmother helped rear her and Christopher's grandchildren and lived a long life with them.
 In another twist of fate, the son of one of the other victims on the SS Adela (cattleman James Farrell) married my mother's sister Nancy Murphy.  So there is a real family link to this ship.
 My Grandfather's legacy lives on in all his grandchildren, great-grandchildren, great-great grandchildren and great-great-great grandchildren.  His death gave me a love of history and the docklands and I have spent a lot of time researching his ship.  Myself and my wife, Teresa, visited the Tower Hill Memorial in London to see his remembrance on the plaque erected by the Commonwealth War Graves Commission.
 The memorial to him and all who died on the SS Adela and SS Hare that is taking place is a wonderful tribute to those who lost their lives, and, a century on, many of his descendants will attend this memorial to remember him.
(Shay Wolfe)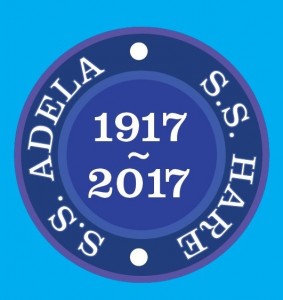 This article appears in "Within the seat of war …Dublin Docklands and the sinking of the SS Hare and SS Adela 1917…" , published by The Adela-Hare Centenary Commemoration Committee , September 2017. Supported by Dublin City Council Decade of Commemoration Fund.

For further information , corrections or clarifications contact adelahare1917@gmail.com
(Photo of Christopher Wolfe and trade union card courtesy Shay Wolfe and family)