"We are having terrible times out here this while back
Roll on the end."
These are the last words written in a letter from James Nimmo to his mother Rachael, from number 44 Caledon Road, East Wall. James was a private, a drummer in the Connaught Rangers, killed in action at Flanders on AUGUST 3rd 1915. Aged 23 at the time of his death, he was buried in France.
The Nimmo family were part of the North Dock population that originated in Scotland. James and Rachel had immigrated from Posilpark Glasgow to Dublin, sometime in the 1890's. They had a total of eight children, though only six survived – Jeanie, James, Thomas, Alice, Rachael and Henry. Of the surviving children, all but Jeanie and James were born in Dublin.
In 1901 the family were living at 25 St Mary's Road. This was a 'tenement' house,divided into two separate two-roomed dwellings. Their two-rooms were occupied by the seven family members, while eight members of the Constantine family were in the other. The father's occupation was listed as a 'Fireman, in manure works'. By 1911 the family were living at 44 Caledon Road. James senior's occupation remains the same, while 17 year old Thomas is a 'labourer in Iron works'. Thomas would also serve in the Great War.
James Nimmo died on the 3rd August 1915. He was one of twelve parishioners   recalled on the Great War memorial unveiled at St Barnabas Church in 1919. (When the church was demolished in 1969 this was relocated and remains at the North Strand Church).

As part of his ongoing project examining the links between Glasgow and the Dublin Docks , musician Paul O'Brien recorded this song , with lyrics based on the words of Nimmos letter to his mother.
"Dear mother.
Just a line in answer to your letter of the 3rd which I received quite safe and was glad to hear everybody is well at home as this leave me in the very best at present. I received your papers and xxx letters alright, I was glad to get them as they gave the league results of Seaview xxx xxxwhen Dick played for them this season. I have had no word from Tom yet I can't make it out why he never wrote to you even before he left India.
The weather is getting a bit hard now of course we can't expect anything else this time of the year but it is hard being in the trenches in the morning after lying in them all night. We have had some poorly times lately but they are nearly all over. Xxxx xxx xxxxis on some staff job he isn't in any danger where he is. I haven't got much to say as it is very awkward writing in the trenches. So long as you can get word from one it is alright. I am very thankful to both you and Dad for the gifts you sent out. Well when you send me those socks don't mind sending out any more cigs or tobacco as the people are after sending out plenty, I have as much now as will do for xxx months. Though I was glad of it at the time. Well I shall close now as we don't know the minute we have to be off.
Remember me to all at home
 Giving my best, Love to Mother + Dad
xxxx
Goodbye
For the present
P.S.
Mother about me not leaving you so much a week. Well it's like this it was the way I was tricked, there was a cpl. in the drums and he went round the room asking if we were leaving anything to our people so I gave him my name leaving you 15 shill a month. So did all the other drummers but to our surprise after we were in France he told us he was only joking. So that is how you didn't get it but you have it all to come if anything should happen me, so don't think I forgot about you, never
Goodbye for the present
Jim
We are having terrible times out here this while back
Roll on the end."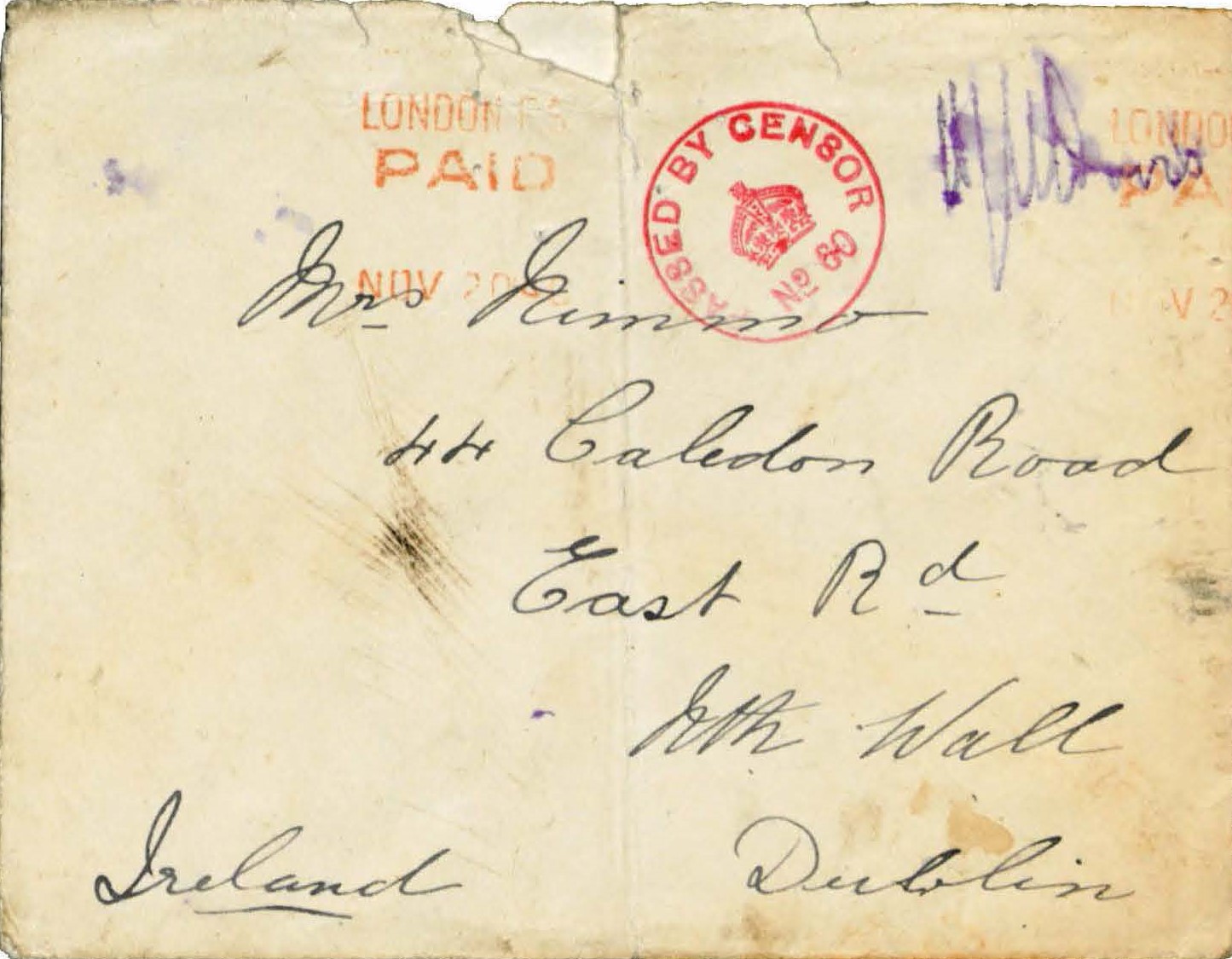 Another song by Paul O'Brien, this one imagining the thoughts of the older Nimmo family members as they consider their choice to move from Glasgow to Dublin, and the hope that they might one day return there.
For comments, clarifications or further information contact us at eastwallhistory@gmail.com
Image credits :
Extracts from letter: National Archive of Ireland    NAI/2002/119
Photo of soldiers : Nigel MacGowan / East Wall History Group/ Gallery of photography Ireland
St Barnabas Plaque : irishwarmemorials.ie
Videos courtesy Paul O'Brien