A fascinating piece of local and family memorabilia , with real historical significance . Signed "Yours , fighting and hoping , James Connolly" . The back of the photograph is really important , as it notes , "From J. Connolly  , to C.Caffrey , March 25th , 1916″. This was of course  just one month before the Easter Rising , in which both James Connolly and Christina Caffrey would participate.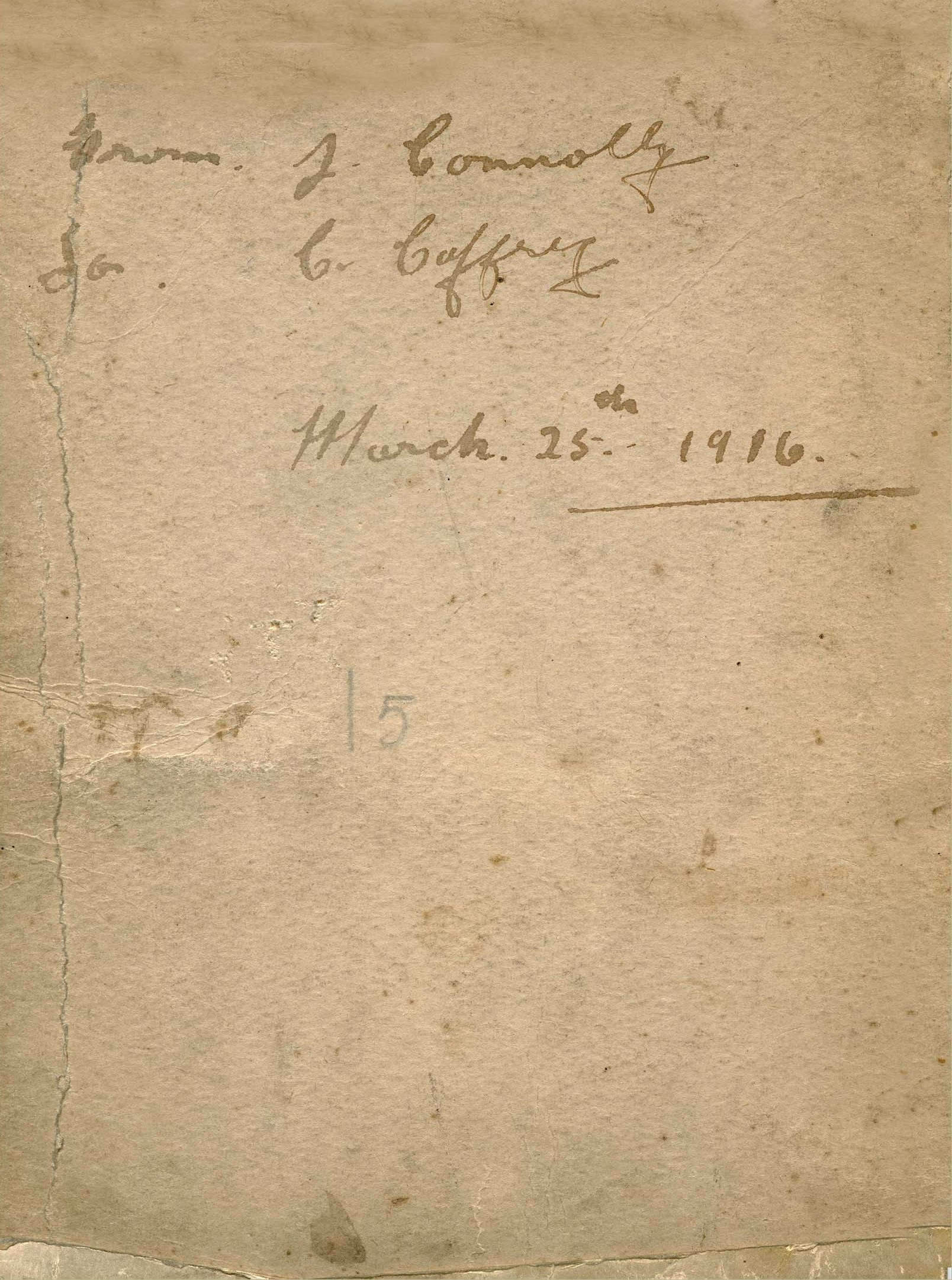 Christina Caffrey of Abercorn Road was a member of the Irish Citizen Army, and served at Stephens Green & College of Surgeons during the Rising. Throughout Easter week she travelled back and forward to the GPO headquarters carrying dispatches. On one occasion, when approached by a British soldier she started to eat the message and when challenged offered him a bag of peppermint sweets, and got waved on her way. During the War of Independence she smuggled weapons from Glasgow, where she met her husband to be James Keeley.
A family steeped in the radical tradition, her twin brothers and mother also engaged in revolutionary activity, while her sister Elizabeth was a founding member of the Irish Women Workers Union.
Some more wonderful material belonging to the Caffrey / Keeley family below , a photo of Christina in later years , her 1916 service medals and an invite to a commemoration event marking the 50th anniversary of the Rising in 1966.
It was an absolute honour for members of the East Wall History Group to join with Christina's daughter Grainne , and her grand-daughter Anne this week when they proudly displayed their valued family items. The following photographs were taken this week at the Gibson Hotel (Point Village) , where a 1916 display was launched. The exhibition entitled "1916:THE UNTOLD STORIES' OF THE DUBLIN DOCKLANDS" is a collaboration between the East Wall History Group and the Gibson hotel and can be viewed over the next month in the reception area , highlighting some local participants and events in the area.
If you have any comments , or wish to share your own family story , photo or memorabilia please contact us at :

eastwallhistory@gmail.com

Photo credits :  

James Connolly note / Memorabilia :  Courtesy Caffrey / Keeley family (Contact- East Wall History Group)

Wedding portrait : Caffrey – Keeley family / Gallery of Photography /

Gibson Hotel Launch: Shane O'Neill Photography