This amazing photograph shows the St Marys Camogie team in the 1920′s . They are practiscing on a local field known as the "Kelly ties" . Look closely and you will see that this is roughly where the Dublin Corporation houses on Russell Avenue were built a few years later (and still stand). The houses and street behind the team look almost identical today .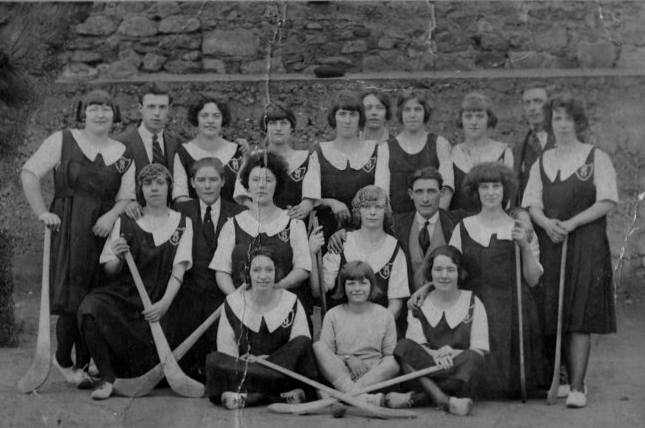 This photo shows team members, some of whom we are delighted to identify –
Back Row:  Left to Right…5th in-Christina Ledwich (Mrs Whittaker),8th in-Essie Steadman (Mrs Kananagh) 9th in-Peter Ledwich.
Middle Row: 2nd in -James Whittaker, 4th in-Mrs O'Mara.
Front Row:  2nd in-Kathleen Steadman.

And our final photograph shows Christina Ledwich & Essie Steadman :

We would like to thank David Whittaker for donating these images and also an original ticket . He also provided the identification . Much appreciated .
(This material represents a real 'hidden treasure' of our community history . If you have any material that may be of interest please contact us , and we would love to hear any comments , clarifications or additional information on our local history work .  Contact : eastwallhistory@gmail.com )