"I thought that no man liveth and dieth to himself, so I put behind what I thought and what I did , the panorama of the world I lived in- the things that made me."    Sean O'Casey (1948)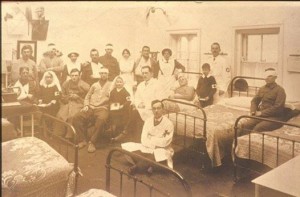 Between 1939 and 1955 Sean O'Casey published six volumes of Autobiography. The first three in particular contain much about his life as a North Dock resident. Throughout this anniversary year, marking 50 years since his death, we intend to present short extracts from these works, concentrating on sections which are most relevant to the area. This extract occurs while O'Casey was in hospital for surgery on a tubercular growth on his neck. Jim Larkin had sent him to St.Vincents hospital "where the union had several beds". Here, "armed with a request from the union, he became No 23 in the St. Laurence O'Toole ward of St.Vincents under a sister named Gonzaga, a delightful woman , most popular with the patients; always lenient; always cheerful, with a gay greeting for everyone." He finds himself amongst wounded soldier's home from the trenches, and ponders on those fighting and dying.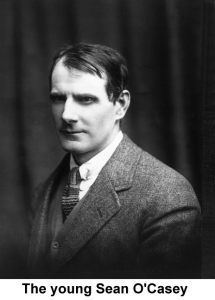 If only one knew, he thought, there's a helluva lot of moaning in the world today; and it would grow; grow till the common people came to themselves. Humanity's music would be as sad as ever, but it wouldn't remain silent much longer. New thoughts were being born, not only in a cry, but in smoke, flame, and cannon-fire. Half the Christian world had just discovered that the other half no longer deserved to live. The slime, the bloodied mud, the crater, and the shell-hole had become God's kingdom and a never-ending line of duckboards led to where they could see Him even as they themselves were seen. Our Father which art in Heaven, Thy kingdom of Communism come! In every ravine, on every hill, through every golden cornfield tens of thousands of Irish wriggled and twisted to death, their dimming eyes dazzled by the flame from a scarlet poppy, their dulling ears shocked by the lilting notes from a rising lark. The ghosts of them who fell at Dettingen, Fontenoy, and Waterloo were clasping their colder arms around the newer dead.
The whole city was sadly coloured now with the blue of the wounded soldier. They were flowing into St Vincent's as room could be made for them. Mr Tobin, the head surgeon, had lost an only son in Flanders, and it seemed he couldn't see enough of forms similar to what his son last looked like. Every free moment he plunged into the middle of those well enough to talk, and would stand there silent, for he was almost stone-deaf, and could hear only a shout given into circular disc with a delicate connexion to a rod stuck in his ear. Where did you get your blighty, son? he'd say to a wounded man, sticking the rod into an ear, and inclining the disc towards the soldier's mouth. When he heard the faint echo of the place's name, he'd murmur, Ah! my son spent his last moment a long way off; but yours was near enough, son; near enough. He seemed to think when he was close to them, he was closer to his son. When on the roof of the operating-theatre, a group of them sang Tipperary, Tobin was in the middle of them, trumpet in ear, his old, slender wavery hand trying to keep time: trying to conjure up the ghost of his son from the songs and stories of the wounded men. You wouldn't get a mother doing it, thought Sean. She'd feel it too deep. She'd conjure up her boy's ghost out of the coloured shadows he left behind him. Neither in noise of song nor murmur would she bring back the sad, sunny dust of his shape again, but in the deep and bitter loneliness of remembrance.

Extracts from "Drums under the windows" (1945)
All six volumes of Sean O'Casey Autobiographies, republished by Faber and Faber, are currently available in both print and kindle editions.
If you have a favourite Sean O'Casey extract please bring it to our attention.
Contact us at eastwallforall@gmail.com