Local woman Aimee Chan is one of the eight finalists in this year's Persil Irish Fashion Awards. This is the 15th year of the competition, and the winning designer will receive €10,000 and the chance to have their creative outfit manufactured and sold in Dunne's Stores.  The final will take place in September on TV3's Xpose, where all the finalists will have the opportunity to showcase their talent. Additionally, the outfits will be displayed in selected Dunne's Stores nationwide throughout September.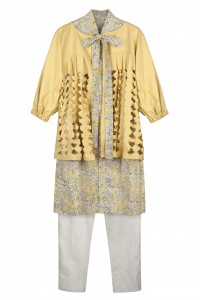 Aimee, a student at NCAD and a talented designer has lived in East Wall since she was two years old. Hailing from a creative background she is heavily influenced by her Chinese ancestry. Explaining her love of the fashion industry, she says "At 11 years of age, I was brought to a fashion designer's studio in Hong Kong, where I got my first proper glimpse into the fashion industry. That was when I knew that fashion was an area that I wanted to work in."
 
Aimee is yet another East Wall success story, and we wish her the best of luck in the finals. We will update this story in September and let you all know when Aimee's designs are on show in Dunne's Stores.