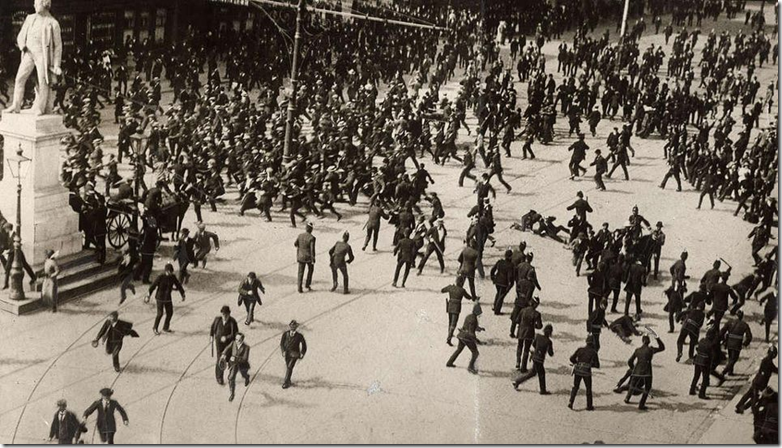 On this date, 31st August, one hundred years ago Irelands first 'Bloody Sunday' occurred. The image of the baton charge on O'Connell Street is one of the most famous Irish photos of the 20th century. An attack by the Dublin Metropolitan Police (DMP) and Royal Irish Constabulary (RIC) saw hundreds of citizens injured as trade unionists, the curious and innocent passersby alike were beaten indiscriminately.
The previous evening baton charges had also taken place at Liberty Hall, along the quays and onto Abbey Street. Police also rampaged through working class housing in Corporation buildings, smashing up furniture and possessions and assaulting residents.
One newspaper report stated that at Jervis Street hospital "some three hundred persons had been treated at the hospital during the twenty-four hours commencing at 8 o'clock on Saturday night till that hour on Sunday evening, for injuries they had received in the disturbances that had taken place in the city."
One of those injured was Patrick Lennon, with an address at 14 Irvine Crescent, Church Road. We have no exact details of his wounds, but it is fair to say that he was 'bloodied but unbowed', as he went on to play a significant role during the Lockout. It is this role, rather than 'a belt of a baton from the DMP' which he deserves to be remembered for.
Patrick Lennon is pictured above outside Liberty Hall, sitting beside Delia Larkin. Patrick, an ITGWU member, was secretary of the "Women and children's (of Locked out workers) Relief fund" set up initially to provide clothes and shoes. He ran the committee from his home at Irvine Crescent. Its role later expanded to include the provision of food, providing nourishment for hundreds of children. Sean O'Casey (formerly of Hawthorn Terrace and by now living at 18 Abercorn Road) became assistant secretary to Patrick. An office was set up at Liberty Hall, and more importantly so was a kitchen, breakfast room and clothing room. Delia Larkin and Grace Neal were centrally involved. While the role and operation of the committee was to change through the course of the strike, it was consistent in providing for the most vulnerable victims of the Lockout.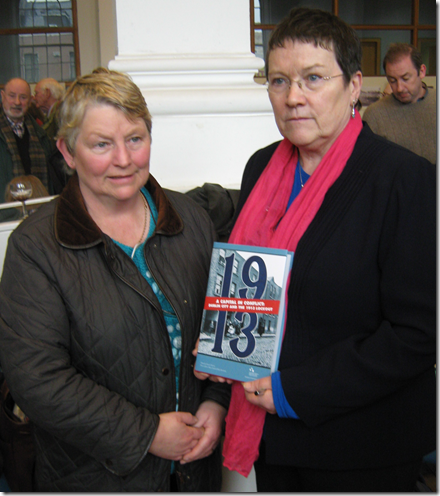 The photo above shows East Wall For All chairperson Marie O'Reilly with author and Historian Ann Matthews at launch of "A capital in conflict: Dublin City and the 1913 Lockout". The book is a collection of fascinating essays by various contributors, including Ann. Her essay looks at how women and children survived the hardship of this time, and includes information on the 'penny dinners' at St Laurence O'Tooles and on the work of Patrick Lennon , and is well worth reading.
If anyone has any further information on Patrick Lennon or other local residents involved in the events of the 1913 Lockout please contact us at eastwallhistory@gmail.com