4th Annual Docklands Book Sale

AN INVITATION TO THE BUSINESS COMMUNITY
As Chairperson of the Docklands Senior Providers Forum, I am extending an invitation to our neighbours and partners throughout Dublin to join us in our 4th Annual Docklands Book Sale, to be held on the 11th through the 13th June in the National College of Ireland. All proceeds from this sale will be distributed to the five partnering organisations which make up the forum to help provide critical services for older people living in the Dockland's area.
Crosscare's Care Local
The Docklands Senior Forum
Lourdes Day Care Centre
Nascadh CDP
Ringsend Community Centre
Other important partners who donate their time and skills include members of the HSE, Dublin City Council and the Dockland Authority.
The members of the Docklands Senior Providers Forum are very aware of the economic challenges that are being faced by both business and community-based programmes but we strongly believe that, by working together, funds can be raised to continue with much needed services for some of the most vulnerable people living in the Docklands area. To this end we would appreciate your help in making the Book Sale a successful event.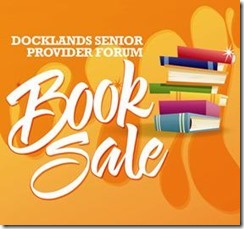 HOW YOUR BUSINESS CAN HELP:
1. PROVIDE SPACE FOR EMPLOYEE BOOK DONATIONS
Provide a book drop-off space during the week beginning Monday 3rd June to Friday 7th June or if another date suits just contact Olive at 8183328.
Drop-off at one of our dedicated collection boxes. Collection boxes are located at the Dublin Docklands Authority Building, Sean O'Casey Community Centre, Ringsend Community Centre and Lourdes Day Care Centre. Call Olive at 818 3328 if you have questions.
Appointing a staff person to help coordinate the collection and drop-off would help very much in the over all organising efforts. If you feel your organisation will be doing a significant collection, an on-site pick-up can be arranged by calling Linda Desmond at (01) 836 0011 x 134.
All donated books should be in boxes.
2. VOLUNTEER
If employees want to donate one to two hours to help during the sale, their voluntary assistance would be very much appreciated. An example of the opportunities available include: selling, sorting and collecting.
There are volunteer opportunities available from the Monday 10th to Friday 14th June.
A volunteer application form is available to download from our website, www.carelocal.ie or contact Linda Desmond on (01) 836 0011 x 134 / ldesmond@crosscare.ie
3. ASSIST WITH SOCIAL MEDIA OUTREACH
Encourage employees to spread the word about the event through email and social media.
Share the event with friends online. See facebook.com/carelocal.
4. DISTRIBUTE FLIERS
The Book Sale flier is available on pdf. Offering to distribute fliers would help 'spread the word'.
The flier is available to download at www.carelocal.ie.
5. COME TO THE BOOK SALE
We look forward to seeing you there and please remember that all books are just €1 so do not miss this opportunity to help older people in the Docklands and get your holiday reading organised at the same time.
WHERE DO THE PROCEEDS GO?
All proceeds are equally divided among the participating organisations providing services to older people living throughout the Docklands area.
Last year's sale contributed to: the improvement of health and bus transportation services; the expansion of befriending services affecting the most socially isolated; an increase in social activities on both the North and South sides of the Dockland. Included in these activities is a new competitive programme called the League. The League brings older men together to create an atmosphere of friendly pool competition. It has proved to be hugely successful and has been described by some as the only reason to leave the house every week.
Thank you for taking the time to consider our invitation and thank you so much for being a good neighbour.
In appreciation,

Linda Desmond
Chairperson


Docklands Senior Providers Forum